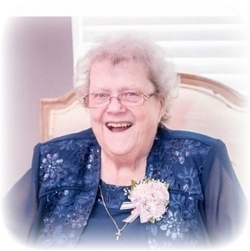 Helen "Dolores" Carpenter, 87, passed away December 30, 2019 at her home with her loving family at her side. She was born on May 6, 1932 in Philadelphia, PA to the late George Lester Streeper and Helen Irene Christine.

On December 12, 1948, Dolores married her beloved husband, Norman Alvin Carpenter, Sr. at St. Steven's Episcopalian Church in Bridesburg, PA. Together they celebrated over 30 wonderful years of marriage before his passing in April 1979.

In 1967 she began her career with the Department of Defense at Naval Air Station Patuxent River. She worked her way from entry level as a GS 1 to a GS 11 working at Supply, Strike and Rotary Wing. After over 30 years of dedicated service she retired in 1997 as a Supervisor.

She was a progressive, independent woman, who raised all five of her children, ensuring each of them had a college education. She was a loving and devoted mother who supported her children through all their sporting events, education and into adulthood. She made sure the family household was full of love and ran smooth while her husband served in the U.S. Navy for 30 years. She was a delicious cook, famous for her deviled eggs and homemade birthday cakes and Sunday family dinners. She enjoyed crocheting and made sure everyone had a handmade blanket made with love from her.

She is survived by her children: Noreen Ann Morrison (Hal) of The Villages, FL, Norman Alvin Carpenter, Jr. (Valerie) of The Villages, FL, Yvonne Gail Hadnagy (Joseph) of Winchester, VA, Lee Carpenter (Carrie) of Owings, MD, and Bryan Lester Carpenter (Laura) of Leonardtown, MD; 8 grandchildren; 12 great grandchildren; and 1 great-great grandchild. In addition to her parents and husband, she is also preceded in death by her sisters, Roberta I. Clark and Gertrude E. Andress.

Family will receive friends on January 9, 2020 from 10:00 to 11:00 p.m. at Church of the Ascension, 21641 Great Mills Road, Lexington Park, MD 20653. A Funeral Service will be celebrated by Reverend Greg Sylar at 11:00 a.m. Interment will follow at Evergreen Cemetery, 22020 Chancellors Run Road, Great Mills, MD 20634.

Servings as pallbearers will be: Ethan Carpenter, Bryan Carpenter, Norman Carpenter, Jr., Robert Stack, Jr., Christopher Carpenter, Carrie Carpenter, Terry Delahay, Hal Morrison, Joseph Hadnagy, Jeremy Montague and Bob Brookins.

Memorial contributions may be made to the American Heart Association, P.O. Box 5216, Glen Allen, VA 23058-5216 and the Southern Maryland Animal Welfare League (SMAWL), P.O. Box 1232, Leonardtown, MD 20650. Arrangements by the Brinsfield Funeral Home, P.A.