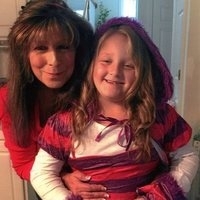 Jacqueline Dana "Jackie" Mulcahey, 55, of Mechanicsville, MD passed away peacefully at her home on December 28, 2019. Jackie was born on May 16, 1964 in 29 Palms, California, to the late William Aloisi and Eileen Morgan of Boston, Massachusetts.

Jackie met her best friend and forever love, James Mulcahey while out with friends. Together they have spent almost thirty-seven (37) years together. Their love produced one daughter, and a beautiful, intelligent granddaughter.

She was a wonderful woman who loved her family. Jackie was so proud of her granddaughter, Layla, and the wonderful young woman she was becoming. The bond between a grandmother and grandchild is undeniable, but the bond between these two was unbreakable. Layla was Jackie's greatest joy in life.

Jackie could spend the day shopping and still never have a hair out of place. Never vain but always wanting to look her best, Jackie took pride in her appearance. A beautiful woman on the inside and out, she filled the world around her with grace, happiness. She could spend an afternoon quietly writing or even better watching the waves hit the sand on the beach. A long-time sun worshipper, summer was Jackie's favorite season. She spent many vacations on the shores of Myrtle Beach with her family and friends.

Her bright smile and quick wit will be dearly missed. To know Jackie was to know a fun, energetic and loving soul. Memories of her inherent joy will last a lifetime for her family. As you stand under a blue sky with the sun shining down upon you, know that Jackie is smiling watching you from above and never far away.

Jackie is survived by her husband, James Joseph Mulcahey, III; daughter, Shannon Mulcahey of Waldorf, MD; granddaughter, Layla Paige Misrell of Waldorf, and her mother, Eileen Morgan of Boston, Massachussetts. She is also survived by her brothers, Michael, Mark, and John Aloisi, and sister, Judy Aloisi-Hamilton. She was preceded in death by her father, William Aloisi.

The family will receive friends for Jackie's Life Celebration on Saturday, January 4, 2020 at 11:00 a.m. at Calvary Chapel of Southern Maryland, 29948 Three Notch Road, Unit 9, Charlotte Hall, MD 20622 and it will be officiated by Pastor Paul Goodwin. Interment will be private. Arrangements by the Brinsfield Funeral Home & Crematory, P.A., Charlotte Hall, MD.