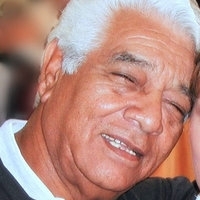 Frank M. Garcia Jr., of Callaway, MD passed away on December 24, 2019 at Suburban Hospital in Bethesda, MD, with his eldest son at his side. He was born on March 23, 1936 in Corpus Christi, TX to the late Francisco Garcia, Sr. and his late mother Guadalupe Cuadros Garcia

Frank went to Tennessee Temple University and graduated with a degree in Theology. After graduation he moved to Georgia where he became an Independent Baptist Minister and evangelist until his retirement. After retiring he spent many days fishing up and down the Atlantic coast of Florida which was one of his most loved activities.

He was an avid reader of the Bible and loved sharing God's plan of salvation to anyone who would lend an ear. He adopted a verse from the book of Philippians, Chapter 1, Verse 6 and it followed his name anytime he signed anything. He called it his LIFES VERSE and it read "Being confident of this very thing, that he which hath begun a good work in you will perform it until the day of Jesus Christ." Frank also enjoyed western movies and listening to country and old gospel music.

He is survived by his children: Gary Garcia (Lisa Denise) of Callaway, MD, Kimball Joey Garcia of Rossville, GA, and Tammy Jeanine Larmon of Lafayette, GA.; his two grandchildren, Jessica Leigh Starnes (Mark) of Piney Point, MD and Fallon Larmon of Lafayette, GA; two great-grandchildren, Trent Levi Starnes and Aurora Capri Starnes of Piney Point, MD and many extended family and friends. In addition to his father, mother, and all siblings he is also preceded in death by his son, Lester Lee Garcia.

All services will be private. In lieu of flowers please make a donation to the Alzheimer's Association at www.alz.org. Arrangements by the Brinsfield Funeral Home, P.A.