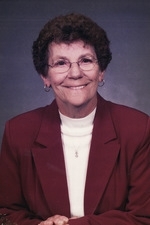 Dorothy Ann (Mickey) Norris, 84, of Hollywood, MD passed away peacefully at her home on December 24, 2019 surrounded by her loving family. Born on July 14, 1935 in Palmers, MD. Mickey was married to the love of her life Joseph A. (Buba) Norris on December 23, 1950. They were married for 39 years until his death in May 11, 1989.

She was preceded in death by their daughter Ann Norris, her mother and father, Mary Lilian and Thomas Dewey Blackistone, and her brother Junior Blackistone. She was also preceded in death by her two son in laws James Ernest (Ernie) Woodall and Dan Alen (Doe Doe) Sparks. She leaves behind her remaining siblings Caroline, Shirley, Gina, Roy, and Brenda. Together Mickey and Buba raised four daughters Linda (Ernie) Woodall of Avenue, MD, Debbie (George) Sparks, Lou (Dan) Sparks, and Jane (David) Burroughs all of Hollywood, MD.

Mickey was a devoted Christian and homemaker. She worked many years for the Board of Education, until her retirement as a cafeteria worker. She enjoyed working outside tending to her flower beds and yard. She had a passion for cooking wonderful food, enjoying having family gatherings, and parties.

Mickey also loved spending time and spoiling her grandchildren. Her favorite past time was listening to music. Mickey enjoyed following her favorite bluegrass band "The California Ramblers" where you would often find her behind the microphone singing her favorite song "Darling, Let's turn back the years".

Mickey leaves behind 8 grandchildren Jamie Woodall, Chrystal Thompson, Denise Chapman, Boogie Sparks, Shane Burroughs, Brianna Burroughs, Joshua Sparks, and Abigail Sparks. As well as, 9 great grandchildren.

The family will receive friends on Monday, December 30, 2019 from 5:00 PM to 8:00 PM with prayers recited at 7:00 PM in the Mattingley-Gardiner Funeral Home Leonardtown, MD. A Mass of Christian Burial will be celebrated on Tuesday, December 31, 2019 at 10:00 AM in St. John's Catholic Church Hollywood, MD with Father Samuel Plummer officiating. Interment will follow in the church cemetery.

Serving as pallbearers will be her son in laws and grandsons George Sparks, David Burroughs, Jamie Woodall, Shane Burroughs, Joshua Sparks, and George Sparks, Jr. (Boogie). Honorary pallbearers will be her granddaughters Chrystal Thompson, Denise Chapman, Brianna Burroughs, and Abigail Sparks. Memorial contributions can be made to the Dementia Foundation Society P.O. Box 600 Doylestown, PA 18901 and Hospice of St. Mary's P.O. Box 625 Leonardtown, MD 20650.