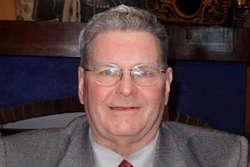 Connie Maxton "Max" Pittman, 74, returned to his heavenly home on December 20, 2019 after a valiant battle with leukemia where he was given a miraculous seven months more on this earth with his family. His devotion to his family and his firm belief in God supported him in his struggle and ultimately gave him peace. Connie was born to the late Elmer and Juanita Pittman in Wilson, NC on June 4, 1945.

Connie completed his undergraduate education at Mount Olive College and Atlantic Christian College in NC. He studied Education Administration at George Washington University. Connie was a lifelong educator who spent the majority of career teaching physical education at Clinton Grove Elementary School. To this day, he was in contact with many of his former students who speak highly of his lasting influence in their lives.

At his retirement from education, Connie began a career in Real Estate where he served as a realtor with Century 21 New Millennium of Waldorf. Connie had a love for and was highly influential in his community. He was a dynamic and dedicated member of the Pinefield Community. He loved being a part of the Pinefield Civic Association where he assisted in planning community events and recruiting new members. Connie enjoyed attending Southern Maryland Blue Crabs games. He was very proud of the work he did obtaining sponsorships for the Blue Crabs Booster Club and was honored to receive recognition as a member of the Blue Crabs Booster Club Honor Roll.

Connie was blessed with a large and loving family. He married his college sweetheart, the late Betty Smoak Pittman, on July 24, 1966. Connie and Betty raised three children with patience and love in a Christian home. He instilled in them a love for God and family. Of late, Connie enjoyed traveling the East Coast with his sister and family. He spent a lot of time traveling to sporting events for his grandchildren where he coached and cheered from the stands.

Connie is survived by his sons and their wives, Brian and Melissa Pittman of Annapolis, MD, Eric and Kelly Pittman of La Plata, MD; his daughter and her husband, Willie and Leslie Klepper of Roanoke, VA; his grandchildren Eli, Ethan and Davis Klepper, Zoey, Scarlett and Tyler Pittman, and Emmalyn Pittman; his sister Darlene Mobley.

A memorial service will be held in honor of Connie at Huntt Funeral Home at 4 p.m. on Monday, December 23. Receiving of family and friends will take place prior to the service from 2-4 p.m. Connie will be buried privately at a later date at the West Lawn Cemetery, Elizabeth City, NC.