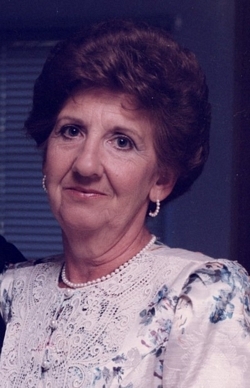 Mary Kathryn Carter, 86, of Hollywood, MD passed away Friday, December 13, 2019 at Charlotte Hall Veteran's Home in Charlotte Hall, MD with her family at her side. She was born on December 11, 1933 in Alderson, West Virginia to the late Cecil Edgar Shires and Okey Ora Meadows.

Mary is a graduate of Hinton High School in West Virginia. She was married to her beloved husband, Kenneth C. Carter for almost 58 wonderful years until his passing in 2010. She was devoted to her husband, who loved her dearly and enjoyed spoiling his princess. She was a loving mother of 4 whom she enjoyed spending time with; family always came first. She was very athletic and was an avid golfer. She was a long time member of Breton Bay Golf and Country Club. She was a socialite and enjoyed travelling, especially with her sister to Europe and Hawaii. She had an extensive doll collection. She was a long time member of First Saints Community Church, St. Paul's Campus.

She is survived by her children: Stephen Paul Carter of Norfolk, VA, Rebecca "Becky" Bogie of Hollywood, MD, and Lisa Elizabeth Goldsborough (Dale) of Hollywood, MD; her grandchildren: Michael Lee Hurry, Jeff Anthony Albright, Benjamin Charlton, Corey Nicholas Higgs Carter, Olivia Katherine Goldsborough, and Chase Manning Goldsborough; her great grandchildren: Isaiah Miller, Jalen Hurry, Deziray Hurry, Kacira Hurry, and Halo Hurry; and many extended family and friends. In addition to her parents and husband, she is also preceded in death by her daughter, Mary Carol Hurry, and her siblings: Abe Shires, Maria Johnson, Ervin Shires, Paul Shires, and Pat Shires.

Family will receive friends on Thursday, December 19, 2019 from 12:00 to 1:00 p.m. at Brinsfield Funeral Home, P.A., 22955 Hollywood Road, Leonardtown, MD 20650. A Funeral Service will be held at 1:00 p.m. with Pastor Chris Owens presiding. Interment will follow at First Saints Community Church Cemetery, 25550 Point Lookout Road, Leonardtown, MD 20650.

Servings as pallbearers will be Michael Hurry, Benjamin Albright, Corey Higgs Carter, Chase Goldsborough, and Pat Goldsborough. Memorial contributions may be made to the Alzheimer's Association of Maryland, 10665 Stanhaven Place, Suite 205D, White Plains, MD 20695. Arrangements by the Brinsfield Funeral Home, P.A.