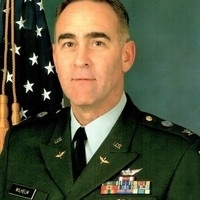 Bruce Alan Wilhelm, Colonel, US Army (Ret.), 64, of Swan Point, MD and Great Mills, MD, passed away on December 11, 2019 at home in Swan Point surrounded by his family after a 6 month battle against cancer. Bruce will forever be in our hearts; loved and cherished and respected for the grace, bravery and integrity he showed through this debilitating ordeal.

Bruce was born on July 17, 1955 in Baltimore, MD to Anna Stoffa Wilhelm (deceased) and William James Wilhelm, of Dundalk, MD. Bruce graduated from Dundalk High School in 1973 and the U.S. Military Academy in West Point, NY in 1978 with a degree in aeronautical engineering and his initial helicopter qualifications. He was commissioned a 2nd Lieutenant in the United States Army. After completing Airborne School, the Officer's Basic Course and serving in the Transportation Corps supporting Special Operations, Bruce obtained his attack helicopter transition and went to Maintenance Test Pilot School and the Advanced Officers Course. During this period he tested over 11 different types of aircraft and transitioned to Apache helicopters.

Bruce left active duty in 1986 with an Honorable Discharge as a Captain and relocated to Annapolis, MD where he worked for AIRINC. In 1996, Bruce accepted a position as a civilian with the Naval Air Systems Command (NAVAIR) and moved with his family to California, MD. Bruce's last position was Director, Industrial Business Operations for NAVAIR which he held until the time of his death. In that role, he lead the efforts of a multifunctional team of NAVAIR, Navy, and Joint Force employees to formulate plans and policy to implement overarching strategies affecting industrial operations, capability assessments, industrial source of repair decisions and depot-level posturing decisions.

Bruce continued his military service in the reserve components, 15 years in the Maryland National Guard and 6 years in a US Army Reserve Unit in Richmond Va. for a total of 30 years, retiring as a Colonel in 2008. During his tours in the reserves, he traveled to Somalia and Afghanistan in support of military operations. Bruce received 33 military awards during the course of his career, including the Defense Superior Service Medal, the Meritorious Service Medal with three oak leaf clusters, the Joint Command Service Medal, and the Army Commendation Medal with two oak leaf clusters. He was recognized for his significant and long-term contributions in the promotion of Army Aviation by being presented the Silver Order of St. Michael Award by the Army Aviation Association of America.

Bruce loved music, riding his motorcycle in years past, spending time with Diana after they met in 2013, fishing with his family, and had been an avid member of the Maryland Saltwater Sportfishing Association.

Bruce is survived by his loving daughter, Anna V. Wilhelm who so cherished his love, and was with him every step of the way through this incredibly hard chapter, so unselfish in her love in providing him compassion and dignity in his final months, and by his loving son, William H. William (partner Corrin Griffith) of Rising Sun, MD. , by his wife, Diana L. Havenner of Swan Point, MD., father, William J. Wilhelm & brothers, William "Billy" Wilhelm, and Phillip J. Wilhelm (Bonnie) all of Machipongo, VA., father-in-law, John "Jack" Havenner of Swan Point, MD, his prior spouse and mother to Anna and William, Emily Harman of Staunton, VA, his step-daughter, Brittani Croft (Dustin) and their children, Weston and Hayden, and step-son John-Brooks "JB" Bowling, both of SC, nephews Alex Wilhelm (Emily), John Wilhelm (Christina), nieces Ola Wilhelm, Yana Wilhelm, and Victoria Wilhelm, as well as a large close-knit family of uncles, aunts and cousins, many of whom are members of the Surotchak and Stoffa families in Pennsylvania.

A Celebration of Life will be held at the Brinsfield Funeral Home, 30195 Three Notch Road, Charlotte Hall, Md. 20622 on 20 December 2019, with a Memorial Gathering from 2:00 p.m. to 6:00 p.m. and Prayers with Eulogies at 4:30 p.m. Interment will be at a later date at Arlington National Cemetery with full military honors. In lieu of flowers, memorial donations may be made in Bruce's memory to the Folds of Honor Foundation, Department 13, Tulsa, OK 74182 or online at www.foldsofhonor.org. All arrangements being made at Brinsfield Funeral Home & Crematory, P.A., Charlotte Hall, MD.