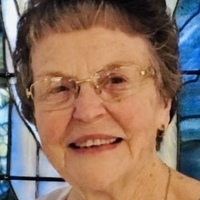 Clara Jane Carter Saunders, 80, of Mechanicsville, MD passed away at MedStar Franklin Square Medical Center, Baltimore, MD on December 8, 2019 surrounded by family. Born on August 19, 1939 in Alton, VA, she was the daughter of the late Charlie Carter and the late Lillian Edwards Carter. Jane was married to Dewey Lawrence "Sonny" Saunders on June 13,1959 and shared 47 years of marriage until Sonny's passing in 2006. Jane worked for the Federal Government for over 30 years when she retired as Staff Assistant to the Secretary of the Department of Veterans Affairs in 1995.

Mom loved God, her family and friends. She was born and raised on a farm in Alton, VA, number nine of ten children. She had many fond memories and often shared stories of growing up on the farm. She was raised in the Baptist Church and continued to be a very active member throughout her life. She was on various committees, taught Sunday School and every year during Vacation Bible School. She loved spending her time with family and friends, reading and learning all she could about the Bible, making delicious treats, crafting, crocheting, and sharing her hand made gifts.

Mom lived her life with grace, love and kindness. She always started each day with the Lord in her heart and a cup of coffee and ended each day still with the Lord, but replaced her coffee with a handful of Cheetos. She was a beautiful woman, an amazing Mother and Grandmother who taught us all what it meant to love and love unconditionally. We take comfort and know that the gates to heaven flung open wide when she arrived. We are blessed unmeasurably to have been able to call you Mom, Grandma, Friend and Sunshine. We LOVE YOU MORE!!!

Jane is survived by her children, Susan Stymiest and William "Billy" Saunders and son-in-law Glenn Stymiest and daughter-in-law Jennifer Saunders; her siblings, Thomas Carter, Mary Ellen Goss, Jack Carter, Hilda Nostrandt, and Jimmy Carter. Also surviving are her four grandchildren, Christopher Stymiest, William Saunders, Jr, Victoria Stymiest and Nicholas Saunders. She was preceded in death by her husband Dewey, her parents, Charlie and Lillian Carter and her siblings, Aubrey Carter, Sarah Calvert, Charles Carter, Mildred Wilson.

The family will receive visitors on December 18, 2019 from 5:00pm to 8:00pm at Brinsfield Funeral Home & Crematory, P.A., 30195 Three Notch Road, Charlotte Hall, MD 20622. Visitors will also be received on December 19, 2019 from 11:30am to 12:00pm at Hughesville Baptist Church with a Funeral Service following at 12:00pm Senior Pastor Derek Yelton and Pastor Kevin Cullins officiating. Interment will follow at Maryland Veterans Cemetery, 11301 Crain Highway, Cheltenham, MD 20623 where Jane will be laid to rest next to her beloved husband. Arrangements by the Brinsfield Funeral Home & Crematory, P.A., Charlotte Hall, MD.