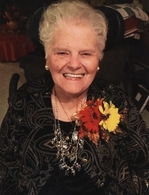 Florence Margaret Kessler "Peggy", 85, of Lexington Park, MD formerly from Collingdale, PA passed away on November 29, 2019 at her home surrounded by her family. She was born May 23, 1934 in Philadelphia, PA and was the loving daughter of the late Florence Marian Batty Phillips and George Fox Phillips. Peggy was the loving wife of Leonard Elwood Kessler, whom she married on November 24, 1956 in the Church of the Nazarene in Collingdale, PA. They recently celebrated their 63rd anniversary.

Peggy is survived by her children, Susan Kessler-Fleury of Lexington Park, MD, Barbara Smith (Nelson) of Lexington Park, MD, Dianna Nueslein (Rick) of Hollywood, MD, Michael Kessler (Bonnie) of Lexington Park, MD, Joyce Kessler of Lexington Park, MD, Annette Wimmer (David) of Springfield, VA, Karen Stanley (Michael) of Lexington Park, MD, Jay Kessler (Ann) of Lexington Park, MD, daughter-in-law Renee Kessler of Evans, GA, 21 grandchildren, 21 great grandchildren, siblings Russell Phillips, Pierce Phillips, and Paul Phillips. She was preceded in death by her son Stephen Kessler, siblings baby Marian Phillips, baby David Phillips, Donald Phillips, Richard Phillips, and Edward Phillips.

Peggy was a 1952 graduate of Collingdale High school and attended Eastern Nazarene College. She moved from Collingdale, PA with her family to permanently reside in St. Mary's County, MD in 1966 where she was a homemaker as well a business owner. She worked at Kessler Body & Equipment Company and Ye Olde Ice Cream Parlour & Restaurant until retiring in 2004.

Peggy was the St. Mary's County representative of The Salvation Army, ringing the bell at the red kettle and wrapping/delivering gifts to under-privileged families on Christmas Eve. In addition, she volunteered with The Republican Women of St. Mary's traveling to the White House every Monday to work in the Correspondence Office. She was also active with The Soroptimist Club of St. Mary's and the Women's Ministries of the Nazarene Church.

The family will receive friends on Friday, December 6, 2019 from 9:00 AM to 10:30 AM at the Hollywood Church of the Nazarene, Hollywood, MD. Celebration of Life Service will be held at 10:30 AM with Pastor Paul MacPherson officiating. Interment will follow in the church cemetery.

Serving as pallbearers will be Ricky Nueslein, Brandon Nueslein, Jordan Nueslein, Benjamin Smith, Shaun Kessler, and Daniel Wimmer. Honorary pallbearers will be Nathan Shoaf, Kyle Kessler, Jacob Nueslein, Travis Bice, and John Kessler.

In lieu of flowers, please make a donation in Peggy's memory to the Ridge Volunteer Rescue Squad (16515 Three Notch Rd, Ridge, MD 20680), The Leonardtown Church of the Nazarene (22730 Washington St, Leonardtown, MD 20650), or the Hollywood Church of the Nazarene (24710 Sotterley Rd, Hollywood, MD 20636).