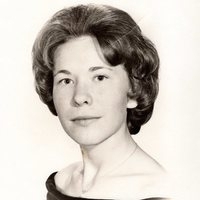 Sonja Joan Veneziani, 74, of Charlotte Hall, MD passed away peacefully at the farm she was raised on December 2, 2019. Sonja was born on September 6, 1945 in Mechanicsville, MD to the late Otto Stasch and Mary Christine (Williams) Stasch.

Sonja met her best friend and future husband, Daniel P. Veneziani when he came along to fix their telephone wires while she worked at the farm. Lucky for them, the telephone kept breaking and Daniel was able to admire the love of his life, until he knew he couldn't live without her. They celebrated over fifty-three (53) years of marital bliss and welcomed two sons, John and Gregory.

She was adored and loved by her family. Sonja spent her younger years working on her family farm in the tobacco fields. Although she loved the farm life and being outside, she was happy to leave the fields behind. She was a wonderful cook who was always available to throw together a family dinner. She was a dutiful wife, mother, and sister.

Sonja was a country girl at heart and animal lover by choice. She never met an animal she couldn't tame. Throughout her life she had many loved and cherished pets. Her family knows she is reunited in heaven with all of her beloved animals. To know Sonja was to know a kind, loving soul. She will be missed and memories of her inherent joy will last a lifetime for her family.

Sonja is survived by her husband, Daniel P. Veneziani; two sons, John Veneziani (Courtney) of Charlotte Hall and Gregory D. Veneziani (Hope) of Mechanicsville and one brother, Robert "Bobby" Stasch of Mechanicsville, MD. She was preceded in death by her parents and younger brother Stevie.

The family will receive family and friends for Sonja's Memorial Gathering on Friday, December 6, 2019 from 2:00 p.m. to 4:00 p.m. at Brinsfield Funeral Home & Crematory, P.A., 30195 Three Notch Road, Charlotte Hall, MD 20622. Interment will be private.

In lieu of flowers it is asked that donations be made to Hospice of St. Mary's, Post Office Box 625, Leonardtown, MD 20650. Arrangements by the Brinsfield Funeral Home & Crematory, P.A., Charlotte Hall, MD.