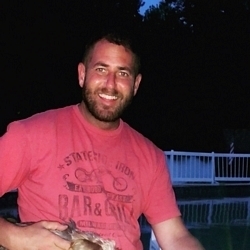 It is with great sadness we announce the recent passing of Ryan James Haley, on November 25, 2019. Ryan, 39, was born April 22,1980 in Watertown, New York to Elaine Haley and the late John Haley.

Ryan is survived by his wife, Ashley; his daughters, Samantha and Solae; his son, Austin; his brother, Mathew (Lauren) of Hawaii. Ryan is also survived by aunts, uncles, cousins, nieces, nephews, in-laws and friends.Ryan graduated from Immaculate Heart Central School in 1998. He held degrees in Business Management and Fire Safety. Moving to Southern Maryland to continue his career in Nuclear Power, he became the youngest Nuclear Fire Marshall in the United States.

Ryan will be remembered for his amazing smile, sense of humor, kind heart, and love of the Philadelphia Eagles football team. Celebrations of life for Ryan will be held in Southern Maryland and Wellesley Island, New York at a later date. In lieu of flowers, memorial donations may be made to a charity of choice in Ryan's name.