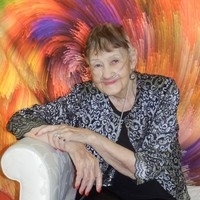 Annie Marie Bond, affectionately known as Cotton, was born February 9, 1929 in Hilltop, Maryland to the late John Samuel Proctor and Estelle Proctor. She departed this life on Wednesday, November 27, 2019. Cotton was the youngest of seven siblings. She was married to the love of her life, the late Thomas E. Bond, Sr., for 46 years.

Cotton retired as a Dispatcher from the Department of the Navy, David Taylor Research Center, after many years of service. She loved reading, shopping, traveling, Christmas, watching old game shows, and most of all her family. She had a heart of gold. She donated frequently to multiple charitable organizations.

Cotton was the matriarch of her family. She was the glue that held the family together. She was the voice of reason, and she was the epitome of motherhood. Cotton, was stylish and classy, she was a lady's lady. She was a fighter and a survivor. No matter what challenge was thrown her way, she had the faith and found the strength to overcome it. There was no task too difficult for her. She had this magical way of turning nothing into something. She instilled these traits into her children and grandchildren. She will truly be missed.

She leaves to cherish her memory, four daughters, Sandra Holcomb (Calvin), Ginger Cornwell (Martin), Debora Holland (Maximillon), Rhonda Bond-Collins (Arthur), one son, Thomas Bond, Jr. (Linda), nine grandchildren, Lesa Nelson, Sean Nelson (Erika), Dawn Gregory (Kenneth), Thomas Bond III (Paula), Timothy Bond, Taiwiade Bond (Robin), Ebony Bond, Danielle Morris, Nicole Washington (Ryan), thirty-three great grandchildren and fourteen great great grandchildren. In addition, she had a huge blended family, which includes an additional 7 grandchildren and 12 great grandchildren. She also leaves to cherish her memory, two sisters-in-law, Sarah Proctor and Christine Travis, and a host of nieces, nephews, caregivers and other relatives and friends.

A viewing for family and friends will be held from 9:30am to 10:30am, Tuesday, December 10, 2019, followed by tributes until Mass of Christian Burial, 11:00am at St. Mary Star of The Sea Catholic Church, 30 Mattingly Avenue, Indian Head, Maryland 20640. Interment, 1:00pm, Maryland Veterans Cemetery, 11301 Crain Highway, Cheltenham, Maryland 20623.