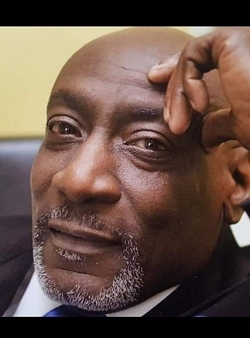 Robert Lee "Tic" Harris, 53, of Lexington Park, MD, passed away peacefully on November 25, 2019 at his home in Lexington Park, MD. He was born on December 12, 1965 in Prince Frederick, MD to the late Phillip Harris and Rosalie Parran and raised by his aunt and uncle Roger "Brick" Brown and the late Dorothy Mae Brown.

Robert married his lovely wife Christine on March 20, 2004 in Patuxent River, MD and they have enjoyed 15 years of marriage together. Robert's hobbies included fishing and crabbing, he really enjoyed being on the water. He loved to play horseshoes, cleaning cars and was very meticulous on keeping a beautiful yard. His favorite football team to watch was the Washington Redskins. He also enjoyed The Jerry Springer Show which he watched daily. He enjoyed spending time with his family, especially his grandchildren.

He is survived by his loving wife Hilda Christine Butler-Harris and their children: Keishawnd Young (Roger, Jr); Jyreka Smith and Shileka Smith all of Lexington Park, MD; His father Roger Brown; Mother in-law Frances Campbell; his siblings Betty Parker of LaPlata, MD and Charlotte Brown of Annapolis, MD; his grandchildren Saniya Proctor, Mydesia Young, Harmony Smith, Jermaine Adams, Demari Young, Javontae Young, Jayce Smith, Amyra Chase, Alyisa Chase, Shatoni Chase and Justice Chase. He is survived by two brother in-laws Joseph Lawrence Butler, Jr (Joanne) and Thomas Lee Campbell, Jr (Faith, deceased). Four sister in-laws Juanita Weems, Jean Brown (Jerry), Joyce Issac (Franklin) and Kimberly Brown. He is preceded in death by his parents, his aunt Dorothy Mae Brown, brother Joseph Lee Brown, Sr., sister Barbara Ann Mackall, Father in-law Thomas Campbell Sr. and nephew Kendall Parker.

Family will receive friends on Saturday, November 30, 2019 from 10:00am to 12:00 p.m., with a funeral service at 12:00 p.m., at Brinsfield Funeral Home, 22955 Hollywood Rd. Leonardtown, MD 20650. Memorial donations may be made to the National Kidney Foundation, 1301 York Road Suite 209, Lutherville, MD 21093-6007 or go to their website at http://www.kidneymd.org/. Arrangements by the Brinsfield Funeral Home, P.A., Leonardtown, MD.