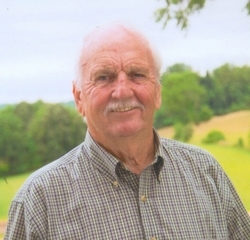 John W. Cooksey, born in La Plata, MD to the late John Frank Cooksey and Ceceila Grace (Langley) Cooksey. Until he was drafted into the Army in 1958, John loved helping his family raise tobacco, corn, hay, cattle, hogs, chickens and vegetables on the Family Farm Known as Fair Fountain Farm in which he lived his entire life and as many family members still do.

John loved his Ford cars, hunting , racing, baseball, his siblings, children, grand children, great grand children, friends and neighbors. John was a Diesel mechanic for 38 years with Penske Truck Leasing before retiring in 1998, prior to that he worked for Western Auto, The United States Post Office, Coca Cola and with The Brandywine Corporation owned by the Meinhardt family.

John is Preceded in death by his loving wife of 44 years Betty D.(Moore) Cooksey, His Brothers and their spouses Francis X.Cooksey (Dorothy), James E.Cooksey (Glenna), Robert V.Cooksey (Margaret). He is Survived by his children Cherri Casanovas (Don), Jackie Cooksey, Kent Cooksey (Tina), Jeff Cooksey (Vicky Mayle). 9 grandchildren and 13 great grandchildren. John is also survived by His Siblings Kitty Michael (The Late Mike), Diana Willet McClure (The Late Lee), Judy Hamilton(Phil).

Arrangements by Arehart-Echols Funeral Home.