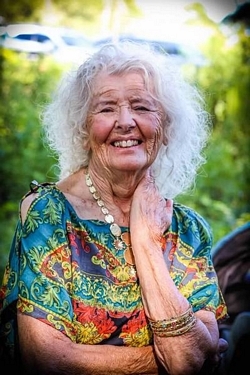 Emily Elizabeth Sonntag, 90, of Colton's Point, MD passed away peacefully on Tuesday, November 12, 2019 in Statham, Georgia surrounded by her loving family. Emily was born in Berkley Springs, West Virginia to the late Ward Hobday and Myrtle Stotler Hobday. Emily grew up in a home shared by her parents and 13 siblings, many of whom preceded her in death.

Emily is survived by her four children: Sherry A. Sonntag-Whorl (Steven) of Leonardtown, MD; Judy Marie Sonntag of Winder, GA; Billy Sonntag (Kelly) of Avenue, MD; and Ruth Hayden (Billy) of Statham, GA. She is also survived by 12 grandchildren and 13 great grandchildren, all who live in Maryland, Georgia, and Alaska.

Emily was married to her beloved husband, William B. Sonntag AKA Capt. Bill. They celebrated over 52 wonderful years before his passing in December of 2012. About 45 years ago, Capt. Bill and Emily moved from Camp Springs, MD to their permanent home in Colton's Point, MD. Emily loved living on the water, and spent many hours walking the beach collecting shells, sea glass, broken pieces of pottery, arrowheads, and other treasures. She looked forward to the return of the ospreys each year, and was very content sitting on her deck watching the birds raise their young. Emily spent a lot of time on the water fishing and crabbing with Capt. Bill, and exploring the nearby islands.

Emily was happiest when all of her children, grandchildren, and great grandchildren gathered at her house for the holidays, as she loved cooking big meals and making sure everyone had plenty to eat. If you had the privilege of knowing Emily, you know what an wonderful cook she was. Christmas was an especially festive occasion, complete with a visit from Santa Claus and his helper to hand out gifts to everyone in attendance. A lot of love and laughter was shared by everyone, especially when it came time for the "Chinese Gift Exchange."

Emily and Capt. Bill decided early on that the winters of Southern Maryland were too cold for them, and each year they traveled to Florida right after the Christmas holidays. They wintered in Sebastian on the east coast of Florida, where they fished the Indian River Lagoon for trout and other pan fish. Emily spent long hours walking the Florida beaches, and added to her collection of seashore treasures. While in Florida, Emily and Capt. Bill attended many local art and craft shows, dined at numerous places, shared time with their "snow bird" friends, went to lots of yard sales, and soaked up the sun's rays. Emily returned to Maryland each spring deeply tanned and rested, but happy to be back in Maryland.

Emily will be most remembered for her unconditional love and support of her family, her many acts of kindness, her words of advice, her faith, and her bible, which had become quite worn from years of reading favorite scriptures and passages. She was a loving wife, mother, sister, grandmother, great grandmother, and friend to so many.

The family will receive friends on Saturday, November 16, from 10:00 to 11:00 a.m., with a funeral service celebrated by Reverend William Hayden at 11:00 a.m. Visitation and prayers will be held at Brinsfield Funeral Home, 22955 Hollywood Road, Leoanrdtown, MD 20650. Interment will follow at Charles Memorial Gardens in Leonardtown, MD.

Serving as pallbearers will be Billy Sonntag, Joshua Sonntag, Billy Hayden, Daniel Hayden, Killian Redman, and Joey Boyd. Honorary pallbearer will be Stephen Sonntag. In lieu of flowers, the family has requested that memorial contributions be made to the Seventh District Volunteer Rescue Squad, P.O. Box 7, Avenue, MD 20609.