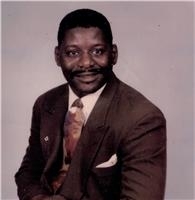 Charles Eugene Berry was called to eternal rest on Friday, November 8, 2019 at his home in Lexington Park, MD. Charles was born May 5, 1956 in Leonardtown, MD, to the late Wallace and Genevieve Berry. He was the third of seven children and received his early education in St. Mary's County Public Schools. Charles graduated from Great Mills High School in 1974.

Charles was employed by various employers over the years; but retired after 40 years of service with the U.S. Government Publishing Office in Washington, D.C. Charles was highly regarded in the community. He loved serving and giving back to those in need. This gave him much gratitude. He could always be found feeding and sheltering the homeless with his two favorite organizations; WARM (Wrapping Arms 'Round Many) and The Mission. Charles served as an election judge for St. Mary's County, as well as a counselor at the Walden Center.

Charles served as a Freemason and was also involved in the Knights of Columbus and the Elk's. One of his favorite pastimes was learning about African American history. Charles had a passion for his people. His collections of African American art are like no other. Charles enjoyed driving his vintage automobiles, visiting museums, attending political events, gospel concerts, and meeting celebrities, being sure to come back to his family sharing his excitement about the pictures taken and the autographs he received. In fact, Charles met and shook hands with four sitting presidents: Reagan, Carter, Clinton and George W. Bush.

Charles was preceded in death by his parents, Wallace and Genevieve Berry; grandmother, Catherine Cutchember; sister, Joyce R. Herbert; brothers, Joseph Berry and David Berry, and nephew, Ronald Calvin Berry Jr. He leaves to cherish in memory three sisters, Mary Lou Cutchember (Melvin), of Valley Lee, MD; Jacqueline Berry (John), of Great Mills, MD; Yvonne Thompson of Baltimore, MD; three brothers; Wallace Berry (Paulette), of Temple Hills, MD, Ronald Berry Sr. (Ester), of Valley, Lee MD, Michael Berry (Debra), of Lexington Park, MD; brother-in-law, Tyvie Herbert Sr.; five nieces, Chiton Berry, of Baltimore, MD, LaKitia Chapman, of Washington, DC, Shonda Berry, of Lexington Park, MD, LaToya Brown, of Charleston, SC, Delisha Berry, of Temple Hills, MD; seven nephews, Telly Thompson, of Baltimore, MD, Dwight Berry, of Largo, MD, Damien Berry, of Clinton, MD, Lance Cutchember, of Valley Lee, MD; Troy Berry, of Waldorf, MD; Tyvie Herbert Jr., of Charlotte, NC, Tremaine Berry, of Lexington Park, MD; seven great-nieces, twelve great-nephews, one great-great niece, One great-great nephew, God-Mother, Lottie Greenwell, of Callaway, MD and a host of aunts, uncles, cousins, relatives and friends.

Family and friends will unite on Friday, November 15, 2019 for visitation at 10 am until Mass of Christian Burial at 11 am at St. George's Catholic Church, 19199 St. George's Church Road, Valley Lee, MD 20692. Interment to follow at Charles Memorial Gardens, Leonardtown, MD 20650.