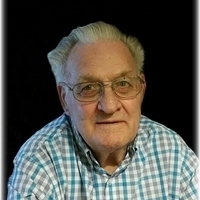 Charles Frederick "Fred" Wood, 86, of Fallston, MD (formerly of Mechanicsville) passed away peacefully at his home on Friday, November 8, 2019. He was born on July 13, 1933 in Morganza, Maryland to the late Joseph S. Wood and Eleanor L. (Gass) Wood.

Fred was a simple man. He enjoyed a day spent on his lawn tractor cutting grass or working on the landscape of his meticulously kept yard. He enjoyed game shows and watching television. Fred was a kind and fun-loving, charismatic man who cherished his family above all. He worked hard to support them as a Truck Driver for BGE before his retirement.

They say the true legacy of man is through the eyes of his family. If you know his family, you know he was a humble, kind and honorable man. He was a great man, husband, father, grandfather, and great-grandfather who will be missed.

Fred is survived by his two (2) daughters, Deborah Dandy of Fallston, MD and Robin Fitch of Havre de Grace, MD; five (5) grandchildren and two (2) great-grandchildren. He is also survived by two siblings, Philip "Alvin" Wood of Mechanicsville, MD and Martha "Elaine" Wheeler of Callaway, MD. Fred was preceded in death by his parents; wife Jeanne Wood; sons, Charles Wood Jr., Dale R. Wood; and brother, Joseph S. (Buck) Wood.

The family will receive friends for a Fred's Visitation on Thursday, November 14, 2019 from 12:00 p.m. to 1:00 p.m. at Brinsfield Funeral Home & Crematory, P.A., 30195 Three Notch Road, Charlotte Hall, MD 20622. A Funeral Service will be heard at 1:00 p.m. on Thursday, November 14, 2019 officiated by Deacon Bill Kyte also at Brinsfield Funeral Home, Charlotte Hall, MD. Interment will be immediately following at Charles Memorial Gardens, Leonardtown, MD. All Arrangements have been made by Brinsfield Funeral Home & Crematory, P.A.