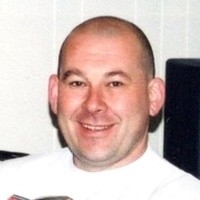 John Philip Naumoff, age 57, of Charlotte Hall, MD passed away unexpectedly at his home Sunday November 3, 2019. He was born a US Citizen in Banbury, England to John and Diana Naumoff, now of Lothian, MD. John and his wife Tammy Naumoff were married for only six (6) years but have known each other for over thirty (30). They shared a special kind of true love and understanding for one another.

John worked as an auto mechanic most of his life. He worked other jobs in his early years but turning a wrench is what he enjoyed doing. John had a love for fast cars, motorcycles boats and four wheelers. John was a jack of all trades and loved to use his hands. He could fix just about anything. He was very creative when it came to fixing the unfixable and thing's he didn't have the correct parts for. In fact, the challenge of fixing the unfixable intrigued him. He loved to be outside and wouldn't pass up a good adventure. John loved history. His fascination and love stemmed from his curiosity about his father's long US military background and multiple tours of duty.

John had a heart of gold. He loved his family dearly. He was always willing and volunteering to help others, even if he didn't feel well. John was the kind of guy who would go out of his way to make others happy. He had a great big smile and a contagious laugh. When he laughed everyone would laugh. John's big sweet heart and silly sense of humor will be missed by so many. He has left all of us with so many wonderful memories, smiles and laughs to cherish forever.

John is survived by his loving wife, Tammy Naumoff; his children, daughter Stephanie Naumoff and Jeff Willis, daughter Catherine Naumoff and Ternell Brooks, son John Naumoff Jr., and stepson Shane Jackson. His sister Helen and Roger Brown, brother Anthony (Tony) and Cara Naumoff; five (5) grandkids, DaKhoven Naumoff, Braelyn Johnson, TahKaiden Brooks, CahSaydee Brooks and JahKaylee Brooks. Father-in-law Tommy Cook Sr, brother-in-law Jimmy and Kim Cook, and many nieces, nephews. John was preceded in death by his father John Naumoff, mother-in-law Mary Ann Cook and brother-in-law Tommy Cook Jr. Arrangements are all made by Brinsfield Funeral Home & Crematory, P.A., Charlotte Hall, MD.