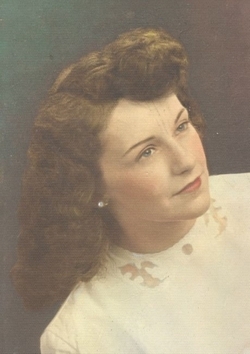 Doris "Jean" Goshen, 94, of Waldorf, MD passed peacefully on November 5, 2019, while at home with family members at her side. She was born on May 15, 1925, in Wallace, WV a daughter of the late Oris W. "Jake" and Mabel (Ashcraft) Fleming.

Jean is survived by eight sons; David W., Michael, Craig (Kathy), Jeffrey (Deborah), Bradley, Mark, Christopher and David F. (Grandson); and one daughter, Lisa (Frank) Adriani; and 16 grandchildren; 10 great-grandchildren; one sister, Ruth Chase; daughter-in-law, Patricia Goshen; and many loving nieces, nephews and friends.

In addition to her parents, Jean was predeceased in death by her husband, Aubrey "Red" Goshen; daughter, Karen Goshen; two sons, Roger and Dennis Goshen; three brothers, Vaughn, Loudin and Larry Fleming; three sisters, Jewell Fleming, Bernice Adams and Marie White; and special family friend, Birgit Braatz.

Jean, as she was known by family and friends, graduated from the Wallace High Class of 1943, in Wallace, WV. Soon after graduation, she moved to Chicago to live with a sister and her family and began employment with the federal government. Jean then moved to Washington DC, continuing employment with the government until her marriage in 1947.

She then began one of life's most demanding and never-ending jobs; raising a family, nine boys & two girls, to later include a grandson. One of Jean's favorite hobbies was playing bingo, at which she made many friends. However, her greatest passions were viewing family pictures, having or attending family gatherings, and most of all, being with children. She was very proud of her West Virginia heritage and remained a loving, caring and watchful mother until her final days.

Visitation will be held Tuesday, November 12, 2019 from 10:00AM till time of service at 12:00PM at Huntt Funeral Home 3035 Old Washington Road Waldorf, MD 20601. Interment Resurrection Cemetery Clinton, MD.