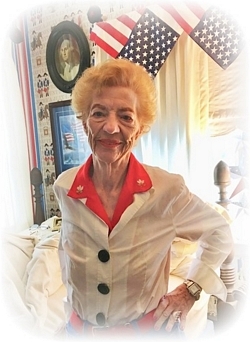 Betty Jean Harless, 84, of Lexington Park, MD passed away on October 31, 2019 at St. Mary's Nursing Center. Betty was born on March 22, 1935 in Bladen, Ohio to the late Sherman Layne and Virgie (Halley) Layne.

Betty married her loving husband, Charles W. Harless on December 14, 1955 in Gallipolis, Ohio. They spent 62 wonderful years together before his passing in 2017. She and her husband enjoyed collecting antiques over the years and opened Betty's Art and Antiques in Hughesville and Leonardtown, MD.

She is survived by her children, Charles Keith Harless (Mary Leigh) and David Jay Harless of Lexington Park, MD, and Sharon Lynn Harless of Wenonah, NJ. Betty is also survived by her grandchildren, Thomas Gallagher of KY; Katherine Gallagher of HI; Edelen Harless of MD; and Will Harless of MD. Betty was preceded in death by her brothers Mack, Loren, Raymond, and Henry Lane, and her sisters Helen Halley, and Rose James.

Graveside services will be on November 8, 2019 at noon at Charles Memorial Gardens in Leonardtown, Maryland. Arrangements made by the Brinsfield Funeral Home, P.A.