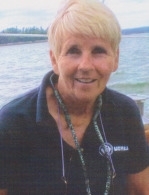 Karine Beata Ingersoll (née Robson) of Leonardtown, MD, passed away on Wednesday, October 30, 2019 at the age of 80. Karine was born on February 24, 1939 in Stockholm, Sweden. She grew up spending summers in Denmark and skiing to school winters in Sweden. She married Jonathan Ingersoll of Garden City, NY on September 5, 1964 and settled in the USA. Skiing, sailing, gardening and bird watching were her passions and teaching was her calling.

She taught sailing at St. Mary's College of Maryland from 1970 – 1982 (and is a 1972 alum) and then taught in the public-school systems in St. Mary's County then Charles County until 2007. She was voted Teacher of the Year in 2000. She also spent almost every summer of her adult life teaching sailing and painting at Camp Wohelo on Sebago Lake in Maine. In 2003 She proudly became a US citizen. Karine was involved in many organizations, including St. Mary's County Science Fair Board, the Womens Club of St. Mary's, and several Garden clubs.

Karine was preceded in death by her Mother Anne-Marie Scavenius and Father Olaf af Robson, her younger brother Vincent af Robson, and her husband Jonathan Ingersoll. Karine is survived by her daughters, Annmari Ingersoll and Christina Ingersoll Mulqueen (Thomas); her brother, Peter af Robson; Her grandson, Jonathan 'Jack' Mulqueen; Cousins, Anthony, Charlotte, Tom (and family), and Susan of Maine.

A celebration of her life will be held in the James P. Muldoon River Center (aka the Boathouse) 47498 Trinity Church Rd, St. Mary's City MD 20686, on Wednesday, November 6, 2019 from 5:00-8:00 pm. There will be another Remembrance at Camp Wohelo in Maine at the end of the summer. Please contact Annmari Ingersoll at aingy@cheerful.com for further information. In lieu of flowers, donations can be made to the Holquest Memorial Inpatient Hospice Center at 4715 North 15th Street, Arlington, VA 22205 or to an organization that represents your relationship with Karine, in her name.