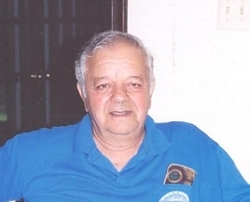 Frank Monopoli, formerly of Southern Maryland, passed away suddenly on Sunday October 27th. Frank was retired from the United States Air Force where he served his country for 29 1/2 years and also spent 5 years in the Untied States Marine Corps prior to that, for a combined active service of 34 1/2 years. His love of flying led him to joining the Air Force. He loved his country and served it proudly. He was a Korean and Vietnam war Veteran.

He was born and raised in Scranton, PA to Italian immigrants where he came from humble beginnings. Like many of his older brothers, he joined the military at a very young age. Upon retiring from the Military with a rank of Senior Master Sgt. in 1985, he embarked on a very successful second career as an entrepreneur, businessman and investor, working until his early 80's. Even after retiring for a second time, he remained very active and independent.

He loved cooking (Italian mostly), telling stories and jokes (which he is known for by family and friends), traveling, watching sports (particularly baseball and boxing), collecting Volkswagen Beatles, and watching news and keeping up with politics. Frank will leave a devastating void here on earth but will be rejoicing and greeted with open arms by his beloved little boy who he has missed terribly since his passing ; Troy Troy, and the many loved ones who have gone before him.

He is survived by four children; Dana Monopoli-Mitchell, Daniel Monopoli, Frankie Monopoli, and Claire Monopoli, two grandchildren; Jacob Monopoli and Danielle Monopoli, son-in-law Donald Mitchell, one brother Emanuel Monopoli and two beloved grand-dogs Peppy and Sarge. He is preceded in death by his beloved mother Anna Filomena-Monopoli, father Antonio Monopoli, brothers-Vito, Matty, Emanuel, Salvatore, Sante, Anthony and Daniel Monopoli - Sisters -Anna Monopoli Booth, Margaret Monopoli Longo and Mary Monopoli Nebeski-Merkel - and lastly his youngest son Troy "a.k.a. Gus McGee, Troy Troy or Badness" Monopoli.

Christian graveside service with full Military Honors will be held on Saturday, November 2 at 10am at Trinity Memorial Gardens Cemetery; located at 3221 Mattawoman Beantown Road, Waldorf, Md 20601, followed by a gathering at 13600 North Keys Road, Brandywine Md 20613.