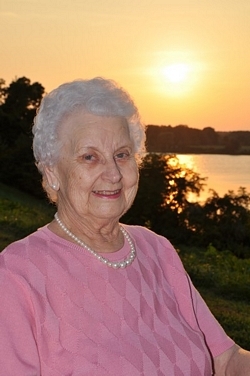 Arlene Pickell Tennison, 90, of Leonardtown, Maryland passed away on October 28, 2019 at St. Mary's Nursing Center in Leonardtown, MD. She was born on March 15, 1929 in Quarryville, PA to the late C. Winfield Pickell and Blanche Kreider Pickell. In 1945, the family moved to Valley Lee, MD, and Arlene remained a resident of St. Mary's County for the next 74 years of her life.

On November 10, 1951, Arlene married the love of her life, Howard Leland Tennison. Together they enjoyed 25 wonderful years of marriage before he passed in 1976. She graduated valedictorian of her class from Great Mills High School in 1947 and earned her Associate's Degree in Business from Strayer College in Washington, D.C. in 1949. Arlene worked as the office manager for the Leonardtown Dairy from 1949 until 1972, where she was the last person out of the building and locked the door behind her. In 1972 she worked as a dedicated and dependable bookkeeper for the St. Mary's County Clerk of the Circuit Court until her retirement in 1990.

Arlene was a member of the First Saints Community Church in Leonardtown, MD. She was active in her community as a member of the Lion's Club, the Young at Heart Group at First Saints, and the St. Paul's Women's Society. In her free time, she loved reading. Some of her favorite subjects were history and politics. She enjoyed playing Sudoko and shopping from QVC. Some of her hobbies included sewing and needlework, as well as working in the garden. Arlene loved spending time with her friends and family. For many years she hosted Easter dinner and it became a contest among the guests to see who could count the most rabbit figurines and images scattered amongst the living room. She could often be heard giving life advice such as, "Always make sure your i's are dotted and your t's are crossed."

Arlene is survived by her sister, Thelma Cusic (J. Lawrence) of St. Clements, MD; her grandchildren: Becky Bauman (Craig) of Edmond, OK, Brian Norris (Stacey) of Chaptico, MD and Tracey Norris of Tall Timbers, MD and her great-grandchild, Jace Norris. In addition to her husband and parents, she is preceded in death by her daughter, Brenda Norris and her son-in-law, Jamie Norris, both of St. Inigoes, MD, and her brother Leigh Pickell of Leonardtown, MD.

Family will receive friends on Friday, November 1, 2019 from 12:00 to 1:00 p.m., with a funeral service at 1:00 p.m., at Brinsfield Funeral Home, 22955 Hollywood Rd. Leonardtown, MD 20650. Interment will immediately follow at Holy Face Catholic Church Cemetery in Great Mills, MD. Arrangements by the Brinsfield Funeral Homes, P.A.