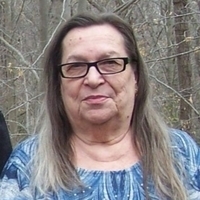 Mary Jane Speicher, 75, of Great Mills, MD passed away on October 13, 2019 at University of Maryland Charles Regional Medical Center surrounded by her loving family. She was born February 2, 1944 in Charleston, West Virginia to the late Benjamin Irvan Speicher and Gladys Mayme Bower.

Mary met the love of her life, George Aldon Barnard, and they were married June 30, 1973 and again on December 14, 1992. George brought 3 children along to the marriage; George Jr, Wilmer, and Brenda. George and Mary then had 3 children of their own; Timothy, Benjamin, and Kristina. They were married over 37 years until George's passing in May of 2010.

She was a wife and mother, who was blessed to stay home most of the time to care for her family. Mary loved painting and crafts, and never missed a chance to play bingo or take part in some gambling! She will be greatly missed by her family and friends.

Mary is survived by her 3 children; Timothy (Rhonda) Barnard of Savage MD, Benjamin W. Barnard of Hollywood MD, and Kristina (James) Bell of Hollywood MD; and 12 grandchildren Victoria, Heather, Larry, Emma, Cheri, Christopher, Samantha, Damien, Casey, Alexis, Kassidy, and Trent. Along with her husband and her parents, Mary is preceded in death by her siblings; Linda Lee Tonra, Benjamin Irvan Speicher, and Sharon Speicher.

Interment will be private. All arrangements have been made by Brinsfield Funeral Home & Crematory, P.A.