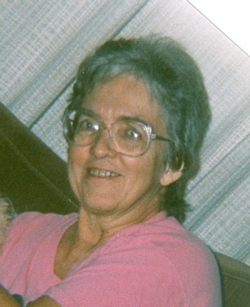 Dorothy Jean Manson, 88, of Waldorf, MD passed away on October 16, 2019 at Southern Maryland Hospital in Clinton, MD. Born on April 13, 1931 in Ashland, KY to the late George Smedley and Lottie Smedley, she is also preceded in death by her sister, Sara "Susan" Burks; and husbands, William "Pat" Manson and Dean Spray. Dorothy is survived by her daughters, Susan Manson (Gerry), Linda Hull (Bill) and Judy McGraw (George); and grandchild, Katy McGraw.

Dorothy enjoyed sewing and crafts. She kept her mind acute by solving crossword puzzles and she loved going to amusement parks. Her greatest devotion was to her family and friends.

Visitation will be held on October 23, 2019 from 10AM to 11AM at Arehart-Echols Funeral Home, PA (211 St. Mary's Ave., La Plata, MD), where a Funeral Service will start at 11AM; Interment to follow in King David Memorial Gardens (2725 Hollywood Rd., Falls Church, VA). In lieu of flowers, donations may be made in Dorothy's memory to American Cancer Society or American Heart Association.