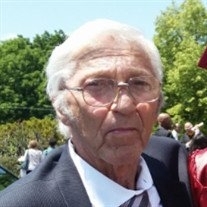 On the morning of Saturday, October 12, 2019, James W. Graner, Sr., loving husband and father, passed away at the age of 78. Jimmy, of Sunderland, MD, known as Dad, Uncle Jim, Big Jimmy, Vern, Chief, and Grandad was born on July 16, 1941 in Washington, D.C to George Nicholas Graner Sr. and Thelma Ireland Graner. He attended Archbishop Carroll High School where he played football and served as an altar boy.

He married Sandra Jean Forrest on November 4, 1961 and they raised two children, James W. Graner, Jr. (Janice Stewart-Graner) and Sondra Graner-Oxendine (Eric Oxendine). Jim was a hard worker since his youth, delivering newspapers, working at Baskin-Robbins, and later becoming a member of the Local Plumbing and Gasfitters Union #5. For many years, he worked for J.W. Graner Excavating, Inc., the family business, before returning to the plumbing industry. After his retirement on December 1, 2001, Jim enjoyed spending time with his nieces, nephews, and grandchildren riding his golf cart around the farm, watching Alabama win on Saturday's and the Redskins lose on Sunday's, and taking his family to Disney World. He was a lover of good food, all things chocolate, and would never turn down a meal with family. We will remember him by his kind-heartedness, sense of humor, work ethic, and mild-mannered ways.

Jim was preceded in death by his father, George, his mother, Thelma, and siblings, George Graner, Jackie Smith, and Joe Graner. His legacy will carry on through his wife, Sandra, sister, Jane Patterson, children, James Graner and Sondra Graner-Oxendine, grandchildren, Bridget Graner, Daniel Graner, Gavin Oxendine, Ronon Oxendine, and many nieces, nephews, and in-laws.

The viewing will be held on Tuesday, October 22, at Lee Funeral Home in Owings, MD from 5:00-8:00 PM. An additional viewing will be held from 10:00-10:45 AM, Wednesday, October 23, 2019, in the Chapel at Jesus the Divine Word in Huntingtown, MD. The Funeral Mass will begin at 11:00 AM, followed by burial at Jesus the Good Shepherd in Owings, MD. Contributions may be made to the American Lung Association Donation Processing Center, PO Box 7000, Alberta Lea, MN 56007-8001.