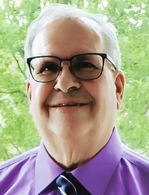 John Emanuele Re, 65, of Leonardtown, MD formerly from Drexel Hill, PA passed away on October 6, 2019 at his home. Born on October 8, 1953 in Delaware, he was the son of the late Guido Re and Jacqueline Rendone Re who passed away on June 11, 1989. John was the loving husband of Terry Ann Re, whom he married on October 22, 1988 in Fairfax, VA.

He is survived by his siblings William Re, Jacqueline Re McDuffie, Stephen Re, and Michael Re. Also survived by his nieces and nephews Michelle White, Paul Trent, Rebakah Hill, Aaron Trent, Dana Mastrocola, Brittany Re, Caroline Barone, Connor McDuffie, Devin McDuffie, Stephen Re, Jenna Fletcher, Morgan Re, and Jordan Re. He was preceded in death by his nephew Michael Trent, Jr.

John graduated from Cardinal O'Hara High School in 1972, and graduated from West Chester University in 1977 with a Master's Degree in Theology and in Guidance Education.

John was a guidance counselor for Archbishop Carroll High School in Washington, DC, Paul VI. High School Fairfax, VA, St. Mary's Ryken Leonardtown, MD, Margaret Brent Middle School Mechanicsville, MD, and Hollywood Elementary Hollywood, MD. He was a guidance counselor for over 40 years, retiring in June, 2016. John was a member of the Kiwanis Club, a lector, and also taught YFF (Youth Faith Formation) at St. George Catholic Church Valley Lee, MD. He was a mentor to many students throughout his life.

The family will receive friends on Wednesday, October 9, 2019 from 5:00 PM to 8:00 PM with prayers recited at 7:00 PM in the Mattingley-Gardiner Funeral Home, Leonardtown, MD. A Mass of Christian Burial will be celebrated on Thursday, October 10, 2019 at 11:00 AM in St. George Catholic Church Valley Lee, MD with Father Paul Nguyen officiating.

Interment will be private. Serving as pallbearers will be Paul Trent, Aaron Trent, Michael Trent, Bill Re, Nathan Hill, and Jeff Trent. Honorary pallbearers will be Michael Re and Stephen Re. Contributions may be made to St. George Catholic Church 19212 St. George Church Road Valley Lee, MD 20692.