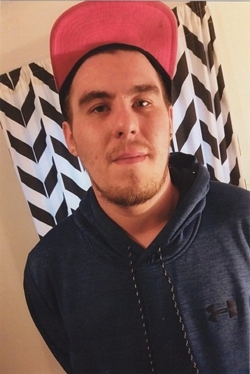 Jason Ray Balch, 26, of Lexington Park, MD passed away suddenly on September 26, 2019 at his home. He was born on November 26, 1992 to Donald Wade Balch of Lexington Park, MD and Kelly Marie Goldsborough Balch of Lexington Park, MD. He attended Great Mills High School. He enjoyed working with his father in construction and painting.

He was close to his family and friends, and enjoyed spending time with them, especially his mother. He was an avid gamer, but particularly enjoyed playing Halo and Call of Duty. He also enjoyed watching movies, especially Star Wars. He loved spending time on the water with family, fishing and crabbing. He found pleasure in the simple things in life, a simple coffee and good hamburger to just spending time with his friends and family, is what was most important. He also loved animals, especially his dog Chico.

In addition to his parents, Jason is also survived by his siblings: Crystal Dawn Balch of Ridge, MD, Donald Wade "DJ" Balch, Jr. of Mechanicsville, MD and Joseph Charles "Joey" Balch of Lexington Park, MD; his grandfather, Charles Goldsborough of Hollywood, MD; his grandmother, Shirley Spears of Lexington Park, MD; his aunts, Amy Lagana of Hollywood, MD and Nancy Cumberland of Lexington Park, MD; his nieces, Danielle Balch, Emily Balch and Gabrielle Balch; his cousins: Steven Lagana, Bobby Lagana, Anthony Lagana, Lindsay Lagana, Sabrina Jameson, Mark Jameson; and many extended family and friends. He is preceded in death by his grandmother, Linda Goldsborough, his grandfather, Donald Francis Balch, and his aunt, Crystal Marie Balch.

Family will receive friends on Wednesday, October 2, 2019 from 5:00 to 7:00 p.m., with a Funeral Service celebrated by Reverend Joe Orlando at 7:00 p.m., at Brinsfield Funeral Home, P.A., 22955 Hollywood Road, Leonardtown, MD 20650. Interment will be private. The family appreciates any donations to help with the funeral costs be made to Brinsfield Funeral Home, P.O. Box 279 Leonardtown, MD 20650. Arrangements by Brinsfield Funeral Home, P.A.