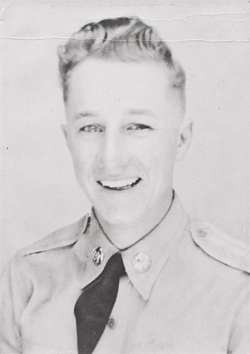 Joseph "Pappy Joe" Everett Oliver, Sr., 88, of Avenue, MD passed away on September 26, 2019 at St. Mary's Nursing Center surrounded by his loved ones. He was born on March 12, 1931 in Avenue, MD to the late James Berlin Oliver and Julia (Bailey) Oliver.

Joseph served in the U.S. Army from March 1, 1950 to March 9, 1953 where he earned the Army of Occupation of Germany Medal. Joseph attended General Motors Training Center and received his certification as an Auto Body Technician and was employed at Ourisman Chevrolet for most of his career, along with working at other Auto Body Shop through Clinton and Marlo Heights area. After retiring Pappy Joe helped at his son's body shop.

He married the love of his life Edna Marie Burroughs on July 4, 1953 at Immaculate Conception Church. They spent 66 wonderful years together. In his spare time, he enjoyed being on the water fishing, crabbing and he loved cutting grass. Along River Springs Road you could hear Pappy saying, "See you later Ole Buddy". He would always give children money, even neighborhood children. One of his favorite foods was chocolate ice cream, he was happiest when he heard the ice cream truck coming down River Springs Road, he would happily buy each little child whatever they wanted from the Ice cream truck. Sweets were always his favorite and were never turned down.

Pappy Joe was a great family man, he loved his children, grandchildren and great grandchildren, nephews, nieces, brothers and sister (in-laws). Pappy was full of life and always had countless jokes, he drove the boat for Jefferson Island Club at only 12 years old.

In addition to his wife, he is survived by his children, Joseph Oliver (Margie), of Hollywood, MD, Randy Oliver (Bonnie), of Leonardtown, MD, and Patrick Oliver (Kathie), of Hollywood, MD; brother, Bobby Oliver, of Avenue, MD; seven grandchildren, Heather Pechatsko (Joe), Nicky Oliver, Brittany Buzzeo (Jonathan), Chad Oliver, Michelle Boothe (Kenny), Amanda Davis (John), and Dale Williams (Kayla); seven great grandchildren, Paige Oliver, Nick Buzzeo, Andrew Buzzeo, Everett Oliver, Lexi Boothe, Abby Boothe, and Emmalyn Davis. He was preceded in death by his parents and three brothers, Jimmy, Jack, and Bernard Oliver.

Family will receive friends on Monday, September 30, 2019 from 10:00 a.m. to 12:00 p.m. with a Mass of Christian Burial celebrated by Reverend Sam Plummer at 12:00 p.m., at Holy Angels Catholic Church, 21340 Colton Point Road, Avenue, MD 20609. Interment will follow at Sacred Heart Catholic Cemetery, 23080 Maddox Road, Bushwood, MD 20618.

Pallbearers will be Chad Oliver, Nicky Oliver, Brittany Buzzeo, Michelle Boothe, Heather Pechatsko, and Amanda Davis. Honorary Pallbearers will be Kell Davis and Georgie Burroughs. Memorial contributions may be made to the Seventh District Rescue Squad, P.O. Box 7, Avenue, MD 20609 or Alzheimer's Association of MD, 10665 Stanhaven Place, Suite 205D, White Plains, MD 20695. Arrangements by the Brinsfield Funeral Home, P.A.