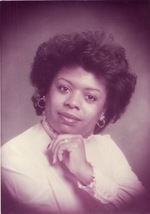 Kathy Ann Cropps Parker, 70, of Marbury, MD passed away on September 18, 2019 in Clinton, MD. She was born on May 5, 1949 in Mt. Airy, NC. She was the loving daughter of the late Annette Rawley Cropps and Clarence Douglas Cropps. She graduated from Mount Airey H.S. in 1967. Kathy worked for the Library of Congress in Washington, DC for 33 years, retiring on June 2, 2012.

Kathy was the loving wife of Robert Lee Parker whom she married on August 9, 1980 in Salisbury, MD. She is survived by her son Dustin Donovan Parker of Marbury, MD, siblings Janette Roberts, James Douglas Cropps, Clarence J. Cropps, Lorraine Taylor, Willie Lee Cropps, Mary Alston, and Jerry M. Cropps.

The family will receive friends on Friday, September 27, 2019 from 10:00 AM to 11:00 AM in St. Mark United Methodist Church Valley Lee, MD where a Funeral Service will held at 11:00 AM with Rev. Pete House, Jr officiating. Interment will follow in Bethesda United Methodist Cemetery Valley Lee, MD. Serving as pallbearers will be Grover Cropps, Jr, Alex Hendricks, Lamont Saxon, Brett Smith, Alfred Jordan, and Willis Brooks. Arrangements by Mattingley-Gardiner Funeral Home.