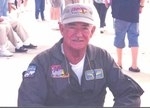 Robert Wesley Cooper, (Bob and Coop) of Leonardtown, MD passed away in Callaway, MD on September 13, 2019. He was born on October 24, 1932 in Leesburg, VA. Bob was the loving husband of Joyce Barber Cooper and the late Elizabeth Adele Cooper.

Bob is survived by his children; Barbara Ann Demko of Ridge, MD and her fiancé? Jack Flatley, Beth Joseph and her husband Joseph Joseph of Hollywood, MD children of his first wife Elizabeth Adele Cooper (deceased), Bandit-beloved pup (deceased) and Roxy-beloved pup. Grandchildren Wesley Demko of Fort Myers, FL, Joseph Joseph of Sacketts Harbor, NY, and Carlee Joseph of Beaufort, NC. Siblings Patti Krause, David Gaines, and Davida Lawler both of Missouri. He was preceded in death by his brother Mickey Cooper.

Bob served in the United Sates Coast Guard from 1950 to 1956, United States Navy from 1956 to 1971 and later joined the fleet reserve in 1973. While serving in the United States Navy he earned the National Defense Service Medal, and Good Conduct Award Medal (First, Second, Third, and Fourth Award's).

He had a lifetime of aviation! When he wasn't flying or giving flight lessons, he was under the cowling doing maintenance or inspecting someone else's effort or stripping down an antique airframe to rebuild it. He once rebuilt a Cessna Piper Cub that he realized he had flown as a kid. He had thousands of hours of flight time in everything from P-3s, Lear Jets and numerous of private planes. He was most proud of flying Panchito, a B25 J WWII Bomber in airshows.

The pilots Prayer: For you have tasted flight, you will forever walk the earth with our eyes turned skyward. For there you have been and there you will always long to return.

A Private Burial will be held on Tuesday, September 17, 2019 followed by a Celebration of Life to be held at Cedar Lane Apartments at a later date. Serving as pallbearers will be Joseph Joseph and Jack Flatley. Honorary pallbearers: Wesley Demko, and Joseph Joseph. In Lieu of flowers donation may be made to Hospice of St. Mary's P.O. Box 625 Leonardtown, MD 20650.