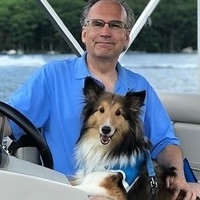 Chief Petty Officer Roy Charles Presler, USN (Ret.) 59, of California, MD died September 09, 2019 at his home with his wife, Catherine, by his side. Born August 3rd, 1960 in San Diego, California he was the son of the late Raymond Glenn Presler and Verla Rose Martin.

Roy held a Master of Science in Systems Engineering from Johns Hopkins University. He was a veteran of the United States Navy, having served twenty-three years. He then went on to become a Branch Head and Systems Engineer within the Airborne Anti-Submarine Warfare (ASW) Systems Engineering Division for the United States Government. Roy was responsible for working on cutting edge current and future ASW Capabilities at the Naval Air Warfare Center Aircraft Division at Patuxent River. He loved the United States of America, and believed citizenship is imbued with great fortune and responsibility.

He was a member of the NRA, the BMW Car Club of America, and the BMW Riders Association. He was an avid fan of Star Wars, Star Trek, and all things BMW. He loved photography, science fiction, boating, traveling, animals, hiking, and being in nature, especially the mountains. He was devoted to his wife and dogs, and leaves many extended family members and friends who also loved him dearly. He was a true gentleman and an active member of Truth Bible Church, always ready to serve where needed. He loved the Lord and always put others before himself.

Roy is survived by his wife, Catherine Presler, and his siblings, Richard Gerald Presler and Jan Marie Ross, both of Port Angeles, WA, and Linda Bea Sage of Joyce, WA. He was preceded in death by his parents Raymond and Verla Presler.

The family will have a Celebration of Life Service on Saturday, September 14, 2019, at 2:00 pm at Truth Bible Church, 24404 Three Notch Road, Hollywood, MD, 20636. He will be buried at Arlington National Cemetery on a later date.

Memorial donations may be made to the Samaritan's Purse Bahamas Hurricane Relief Fund through Truth Bible Church (please write "Samaritan's Purse" on the memo line), 24404 Three Notch Road, Hollywood, MD 20636. Donations may also be made online at truthbiblechurch.com https://www.truthbiblechurch.com. Arrangements by the Brinsfield Funeral Home, P.A.