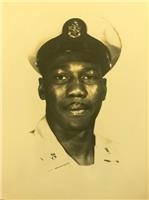 Harry Cleveland Hickson, Jr., 91, of Lexington Park, MD, entered into eternal rest on September 7, 2019 at his residence. Harry was born on May 30, 1928 in Augusta, Georgia. He was one of five children born to Harry Hickson, Sr. and Carrie Key.

Harry Hickson joined the United States Navy on November 2, 1945 and retired after 26 years as a Chief Stewart on August 24, 1971 from Naval Air Station Patuxent River. During the 26 years, he received the Good Conduct Medal (6 awards), National Defense Service Medal, World War II Victory Medal, American Area Campaign Medal, Asiatic Pacific Campaign Medal, Korean Service Medal, United Nations Medal, American Defense Medal and the Antarctica Service Medal and Ribbon. After he retired, Harry became a lifetime member of The American Legion, St. Mary's Post 54 Leonardtown.

Deacon Emeritus Harry Cleveland Hickson, Jr. was devoted to the word of God. As a life-time member of First Missionary Baptist Church, he served on the Finance Committee, was church treasurer, Trustee and most especially, he was one of the first Deacons to be Ordained under Reverend Roderick McClanahan on October 28, 1995. Deacon Hickson was a committed Sunday school attendee and was always willing to assist in any necessary maintenance the church may have needed. He was a dedicated and faithful member.

On July 9, 1980 Harry married, Mary Catherine Clayton-Butler, where their "merged" families resulted in 16 children: Joseph Tyrone Hickson (Norma) Buffalo New York; Faith Elaine Bowden (Duane) Portsmouth, VA; Charles Eric Hickson I (Donna) Suffolk, VA; Linda Michelle Carrington Suffolk, VA; Eugene Butler (Debra) Mechanicsville, MD; Glenn Butler (Bob) Port St. Lucie, FL; Donald Parker (Deborah) Groveland, FL; James Butler, Randallstown, MD; John Butler (Jackie) Great Mills, MD; William Butler (Faye) Hollywood, MD; Avis Butler, Lexington Park, MD; Benita Butler, Lexington Park, MD; Patrick Butler (Michelle) Oxon Hill, MD.
In addition to his parents, Harry was preceded in death by two sons, Paul Maurice Hickson and Anthony Carl Hickson and a step-daughter, Judy Perrine.

Along with 13 of the 16 children, Harry is survived by his wife, Mary Catherine Hickson and a host of grandchildren, great grandchildren, great-great grandchildren, nieces, nephews and cousins.

Family and friends will unite on Tuesday, September 17, 2019 for visitation at 10 am until time of service at 11 am at First Missionary Baptist Church, 46370 Pegg Ln, Lexington Park, MD 20653. On Friday, September 20, 2019, the interment will be held at 11 am at Roosevelt Memorial Park, 1101 Campostella Road, Chesapeake, VA 23320.