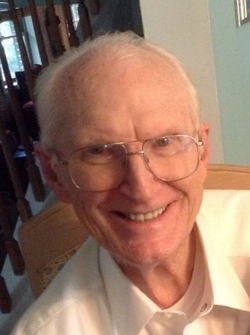 Clifford Earl McNeal, age 85, of Waldorf, Maryland died Saturday August 31, 2019 surrounded by family and friends at Hospice of Charles County. Cliff was born December 14, 1933 in Topeka, Kansas. He was the son of Charles Freeman McNeal and Elsie Alvina (Lang) McNeal. Cliff married Patricia Ann Parady on November 30, 1961. Cliff and Pat were married for 51 years until her death on July 14, 2013.

Cliff was a graduate of Washburn University in Topeka, Kansas and graduated with a bachelors in physics. He was a Private First Class in the Army at the end of the Korean War. Cliff retired from the Census Bureau in Suitland, Maryland on October 1, 1994 after 32 years of employment. Some of the jobs Cliff worked throughout his life were school janitor, potato picker, paper boy, pin boy, bowling shoe room supervisor, theatre janitor, doorman at theatre, assistant manager at theatre, office boy, stock clerk, warehouseman, soldier, laborer, surveyor's helper, civil engineer trainee, section hand, architect school janitor, tire builder, construction worker, physicist, engineer writer, and flight test engineer.

Cliff had a great sense of humor and always had a positive attitude. He loved his church family at Trinity Baptist church and was a member of the "Wise Old Owls". He loved doing crossword puzzles, solving complicated calculus problems, sending birthday wishes with handmade cartoons, playing the slot machines, collecting lots and lots of books, and putting ketchup on his food.

Cliff is survived by his son Scott (Lourdes) McNeal of San Diego, California, and daughter Julie (Glenn) Beasley of Montross, Virginia, grandson Duane (Becky) Beasley of Spotsylvania, Virginia, and great granddaughters Lucy and Wendy. Cliff was preceded in death by his parents, his brothers Arlee and Norman, and his wife Patricia.

The visitation and service will be Friday September 6. Visitation is from 10:00 am to 11:00 am followed by the Service at 11:00 am at the Trinity Baptist Church, 2671 Mattawoman Beantown Road, Waldorf, MD 20601 with repast to follow at the same location. Burial will be Tuesday September 10 at 11:00am at Maryland Veterans Cemetery in Cheltenham. In lieu of flowers please make a donation to Cliff's favorite charity: Lifestyles of Maryland Foundation, Inc. 101 Catalpa Dr., Suite 103 P.O. Box 1794 La Plata, MD. 20646.