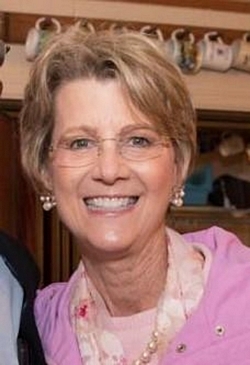 Born in Kansas City, Missouri to Lowell Max and Patricia Ann Palmer McRobert. Survived by: her father: Lowell Max McRobert, Venice, Florida; her husband: Martin W. (Tim) Wise, Leonardtown, Maryland; her daughters: Patricia Adele Wise, Arlington, Virginia; Mary Helen Wise, Leonardtown, Maryland; Katherine Ann Wise, Leonardtown, Maryland; her brother: Michael P. McRobert, Kansas City, Missouri.

Sally graduated from North Kansas City High School in 1978 where she was on the Pom Pom Team for two years, played varsity tennis for three years, and was a hurdler on the track team. Sally graduated from Georgia Tech in 1982 with a degree in Mechanical Engineering, played tennis for four years, and was Captain of the Tennis Team her senior year. Sally was a member of the Alpha Xi Delta sorority at Georgia Tech.

Sally continued to play competitive tournament tennis until the onset of her health issues in September of 2018. She enjoyed playing doubles with her teammates and friends throughout the entire Maryland and Northern Virginia area.

Sally worked throughout her career in the information technology industry where she was involved in both hardware and software support, primarily for the Department of Defense, until becoming a Navy Civil Service employee.

Sally loved her work at NAVAIR, and was highly respected by her colleagues as an APEO for IT/Cyber Security supporting Air ASW, Assault & Special Mission Programs and Unmanned Aviation & Strike Weapons. Sally had recently pursued and achieved a very rigorous Cyber Security certification credential in order to further her long-standing efforts to improve technical processes in her areas of responsibility. She continued to work full time on base at the Patuxent River Naval Air Station until very recently, and then teleworked from home office until her most recent hospitalization.

Photography became one of Sally's favorite hobbies and she became an accomplished photographer through which she was an active part of her daughter's and their teammate and classmates lives in sports, school, and other activities. Sally's interest in photography is evidenced by the abundance of family photos but the lack of photos of Sally herself.

Aside from work, photography, and tennis, Sally had a remarkable ability to host for any situation. From cooking for sports spaghetti dinners, to pre-prom dinner parties, to baby showers, to getaway weekends for her college daughters, she could throw together a party where everyone felt a part of the family.

Sally's highest priority was always her family, then friends. She was a wonderful supportive and encouraging mother to her three girls, somehow always finding time to be a mother and wife. She encouraged her daughters to explore as much of the world as possible, teaching them new languages and finding the time to discover new destinations. Sally will always be remembered for her dedication to her family and for providing a home to all.