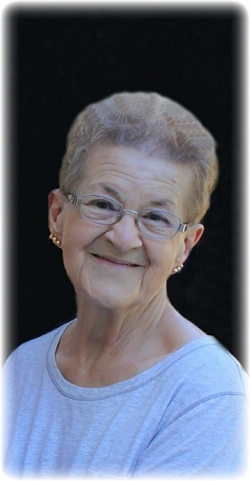 Joan Lorraine Bashioum, 77, of Mechanicsville, MD passed away on August 27, 2019 at George Washington University Hospital with her husband and family by her side. Joan was born on December 7, 1941 in McKees Rocks, PA to the late John Weinhofer and Marie (Stangl) Weinhofer.

She is survived by her adoring husband, Frederick "Fred" Samuel Bashioum, daughter, Tanya Bashioum (Charles McClanahan), sons, Jeffrey Bashioum and Wade Bashioum (Jody), all of Mechanicsville, MD, brother, John Weinhofer, Jr., of Madison, PA, granddaughter, Haven Grace, along with Kyndal, Trevor and Brooke McClanahan, and Godchildren, Rebecca Suite Bowen and Matthew Suite. She was preceded in death by one brother, Michael Weinhofer, and two sisters, Dolores Warnock and Theresa Ferguson, and life-long friends, Bob & Janice Dunlap.

Joan married the love of her life, Fred Bashioum. Their love story began in West Newton, PA when Fred knew he wanted to marry Joan on their first date. Shortly after they married and started their family with the birth of their first son, Jeff. With the support of a kind family member in Virginia, Fred established work and the newlyweds were blessed with life-long friends, Bob & Janice. In this new friendship they enjoyed checking out the local crab houses every weekend which lead them to build their life in Mechanicsville, MD. They spent 59 years together building their beautiful life and family, with the birth of their second son, Jody and only daughter, Tanya. They were always supportive of their children, from Jeff's art, Jody's music, and raising Tanya as a mini-Joanie. Through the years Joan became a second mother to many.

Joan was an avid member of Immaculate Conception Church, loved spending time with her family, especially her weekly visits with her youngest granddaughter, Haven Grace. Cooking her famous quiche and gardening in her yard were also personal joys of hers, along with scratch offs and pulling the slots for the big win! There was never a stranger in her eyes, everyone was welcomed into her heart like family. Seeing the good in others was a gift blessed upon her and she embraced every bit of it. Many would describe Joan as motherly, caring, a saint, and a beautiful soul.

Family will receive friends for Joan's Life Celebration Visitation on Friday, September 6, 2019 at 10:00 am, with a Funeral Service at 11:00 am with Deacon Bill Kyte officiating at Brinsfield Funeral Home & Crematory, 30195 Three Notch Road, Charlotte Hall, Maryland. Memorial contributions may be made to the Mechanicsville Lions Club.