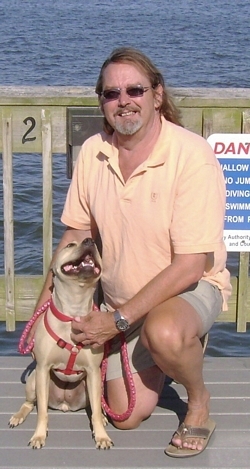 James (Jim) Burke was a longtime resident of southern Maryland. Graduating from Great Mills high school class of '71 he perused his bachelors degree in social work from St. Mary's college of Maryland. Preceded in death by Jo Ann Mebus (his mother) in 1996.

He would traverse the state looking for a suitable career opportunity. Finally settling on Calvert county and the Department of Juvenile Justice where he worked as an employee of the state for 25+ years. Jim and his wife built a modest home in Chesapeake Beach and raised their two children James Leo Burke IV (Jaime)35 of Lexington Park. And Daughter Katrin E. Burke (Kat) 32 of Churchton. Jim Coached soccer and sat on various boards for the town of Chesapeake Beach. He was active in the creation of the Sharons Way Benevolent Fund. He was a member of Stallings Williams Post 206 as well as the Southern Maryland Society.

Jim retired to Florida where he enjoyed the beaches trips to the keys and Outings with his dogs. Whether it was Watching a sailing regatta on the Tampa bay or the latest rocket launch at Cape Canaveral. He loved a good drive. He kept the top down and his hair long.

Memorial services will be held at the Holiday Inn, Solomon's Island. September 21st from 1-3:30 Pm in the Mill Creek Room. All are welcome to attend. Please join us to send Jim off, with all our loving thoughts and prayers. Maybe a story or two and a few jokes. Jim wouldn't have had it any other way.