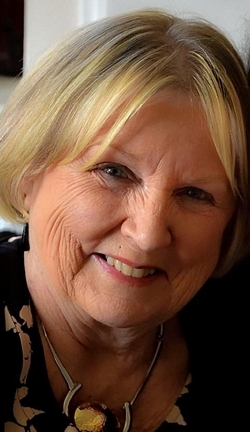 Kathryn LaDonne McCarthy, 78, of Solomons, MD died on August 27, 2019 at MedStar St. Mary's Hospital in Leonardtown, MD. Born on October 7, 1940 in New York to the late Michael Paul Habig and Kathryn Dillon Habig, Kathy was raised in Teaneck, New Jersey and attended the Academy of the Holy Angels in Fort Lee. In 1962, she graduated from Chestnut Hill College in Philadelphia, Pennsylvania. She married William Patrick McCarthy that same year. As a Navy spouse, Kathy accompanied Bill to duty stations in Pensacola, Florida; Norfolk, Virginia; Champagne, Illinois; Corpus Christi, Texas; and Norfolk, Virginia. Although focused on her family, she became a restaurant critic and co-authored two travel guides.

Kathy and Bill moved to St. Mary's County in 1984. She transitioned her successful writing career into technical writing for the U. S. Navy and steadily progressed into program management, eventually retiring as the East Coast Director of New Directions Technology Inc. in 2014. Kathy loved traveling, entertaining, and meeting people. An only child, one of her greatest joys was adopting friends as family and using every new introduction as an opportunity to build her own personal community.

Kathy and Bill celebrated over 40 years of marriage. She is survived by her daughters: Maura Dunn (Rick Lanchantin) of Alexandria, VA, LaDonne Liebler (Steve) of California, MD, Megan Mudd (Michael) of Ashland, VA; her loving partner, Kenneth Frieder of Devon, PA; and many extended family and friends. She was the adoring grandmother to Michael Liebler, Kat Liebler, Will Liebler, Mary Finan Mudd, and Oliver Mudd. In addition to her parents, she was preceded in death by her husband, William Patrick McCarthy and her son-in-law, Kevin Dunn.

The family will receive friends on Tuesday, September 3, 2019 from 10:00 to 10:45 a.m., with a Mass of Christian Burial celebrated by Reverend Raymond Schmidt at 11:00 a.m. at St. John Francis Regis Catholic Church, 43927 St. John's Road, Hollywood, MD 20636. Interment is planned at a later date at Arlington National Cemetery. Memorial Contributions may be made to Hospice of St. Mary's, P.O. Box 625, Leonardtown MD 20650 and St. John Francis Regis Charitable Society, 43950 St. John's Road, Hollywood, MD 20636. Arrangements by the Brinsfield Funeral Home, P.A., Leonardtown, MD.