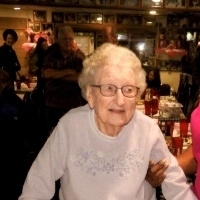 Marie Grace Dyson, 100, of Mechanicsville, MD passed away at her home on Tuesday, August 27, 2019 surrounded by her loving family. Marie was born on January 1, 1919 in Benedict, MD to the late John Marshall Huntington and Eva McDella (Hill) Huntington. Marie married the love of her life, Allen Dyson and together they celebrated over 59 years of marital bliss before his passing in 1998. Their love blessed them with two children, Allen and Lois. She enjoyed being a homemaker, a seamstress and crocheting.

The story is sad that your life is measured not by the breath's you take but the moments that take your breath away. Marie was a kind, generous, sweet woman who spent her life giving to others and she was blessed to have been given many adventurous and memorable moments in her long life. To mourn the loss of this amazing woman is natural, but remember to rejoice in the breathless and beautiful memories you have with her.

Marie is survived by her son, Allen N. Dyson, Jr., of Mechanicsville, MD, and daughter, Louis Marie Benton, of LaPlata, MD; and siblings, Della Magdaline, Charlotte Regina, Mary Alice, Francis Elanor, Harry Bowen, and Louis Chapman. She was preceded in death by her siblings, Margaret Ethel, Sarah Catherine, Maude Elizabeth, Charles Matthew, John Marshall, Elizabeth Cecelia, Agnes Lucy, Mildred Bernice, James Zacheriah, Robert Sylvester, Edna Mae, and Harry Bowen.

Family will receive friends for Marie's Life Celebration Visitation on Tuesday, September 3, 2019 from 6:00 to 8:00 p.m. at Brinsfield Funeral Home & Crematory, 30195 Three Notch Road, Charlotte Hall, MD 20622. A Funeral Service will be held on Wednesday, September 4, 2019 at 11:00 a.m. with Pastor James Wickman officiating at Brinsfield Funeral Home. In lieu of flowers, memorial contributions may be made to the Mechanicsville Rescue Squad, 28120 Old Flora Corner Road, Mechanicsville, MD 20659 or Hospice of St. Mary's, Post Office Box 625, Leonardtown, MD 20650. All Arrangements have been made by Brinsfield Funeral Home & Crematory, P.A.