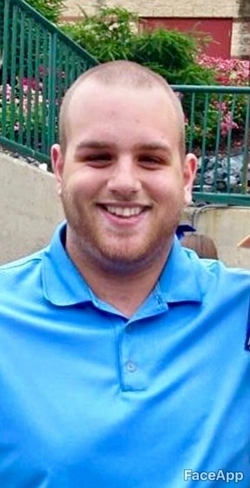 Samuel Brent Talton, of Mechanicsville, died Wednesday, August 28, 2019 at the age of 24 years old. He was born in Clinton, MD on April 18,1995. Sam is survived by his mother Kristine M. Tinsman and her fiancée Jed Springer, and his father Ronald Brent Talton, Jr. and his fiancé Kelly Pettit; his sister Megan Elizabeth Talton and his brother Brett Michael Talton. H

e is also survived by his maternal grandmother, Kathy Tinsman, and his paternal grandfather, Ronald B. Talton, Sr., and step grandmother Linda Talton. He is also survived by many Aunts, Uncles, cousins, several extended family members and an incredible circle of friends that will miss him dearly. Sam is predeceased by his maternal grandfather, James Tinsman, his paternal grandmother Marilyn Talton and his cousin Kristin Tinsman.

Sam was a 2014 graduate of Calvert High School. He previously worked for the electrical union and most recently was employed at Southern Maryland Home and Hearth. He was well known for his exceptional work ethic, attentiveness to details, and kindness and care to all his customers. Everything about Sam was LARGE. His tall and imposing stature combined with his physical strength were appropriately complimented by his oversized heart and his caring personality. The capacity of his amazing mind knew few boundaries, as he voraciously consumed information at will and applied it in all walks of his life.

He was a man of few but passionate guilty pleasures, which explained his frequent and steady diet of macaroni and cheese, intense Marvel Comic discussions and high-octane driven music. He never felt the need to be the center of attention in the company of others, but didn't need to use a great deal of words to ensure that his presence was felt at all times. Cars was always at the center of what made him happy, whether it was spending quality time with his dad fixing them up and riding around town, or testing their limits with his friends. He always strived to give back the love and devotion to his brother and sister that they consistently demonstrated to him, and always wanted to do his mom and GrandMommy so proud with everything he did.

Funeral arrangements are being provided by Huntt Funeral Home at 3035 Old Washington Road, Waldorf, MD. There will be a visitation from 10:00 am-1:00 pm, followed by a service at 1:00 pm. There will be a Celebration of Life immediately following the service at the Lodge Order of Moose, located at 27636 Mechanicsville Road, Mechanicsville, MD 20659. In lieu of flowers, the family asks that you consider donating to the Mechanicsville Moose Lodge #495 at 27636 Mechanicsville Road, Mechanicsville, MD 20659.