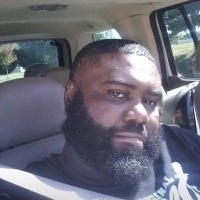 Delonte' DeAngelo Bowman, affectionately known as "Boo" was born on February 9, 1982 to Clary L. Bowman, Jr. and Pamela R. Cartledge. He answered the divine call home on August 12, 2019.

Delonte' obtained his early education in the Prince George's County Public School System and graduated from the H. D. Woodson High School, Washington, DC in June 2000. After graduating from high school, Delonte' entered the workforce and soon thereafter attended the Woodstock Job Corp Center achieving his American Welding Society (AWS) certification. Recently, Delonte' was very proud to be employed by F. O. Day Asphalt Company and prided himself on learning more on the job and moving up in the company.

Delonte' loved basketball and football. His favorite teams were the Boston Celtics and the Washington Redskins. In 2008, he became the proud father of Kaniyah Leigh Burke, the apple of his eye. He was a very loving, caring, and devoted father to Kaniyah. She was his world. He taught her how to say the alphabets and to count before she was two years old. He even potty trained her. He loved her with all his heart and lived every moment for her.

He is preceded in death by his grandfathers: Howard H. Cartledge and Clary L. Bowman, Sr. and leaves to mourn: his father - Clary L. Bowman, Jr.; his mother - Pamela R. Cartledge; grandmothers - Barbara J. Cartledge and Ella Bowman; 4 brothers - Andre' Bowman, Lamont Spruill, Lionel Spruill, and Naqueal Henderson; 5 sisters - Brionna Allen, Tawana Spruill, Najad Henderson, Nakiesha Henderson and Rashaunda McKey; 1 nephew - Elijah Bowman; and a host of aunts, uncles, cousins, extended family, and friends. Delonte' "Boo" Bowman will be sorely missed but fondly remembered.

Viewing, 9:30 am, until time of Service, 11:00 am, Monday, August 19, 2019 at The Sanctuary at Kingdom Square Baptist Church, 9033 Central Avenue, Capitol Heights, Maryland 20743. Interment, Heritage Memorial Cemetery, 13472 Poplar Hill Road, Waldorf, Maryland 20601.