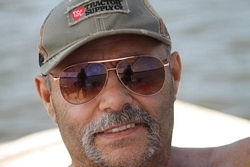 Tommy passed away at home at the age of 69 on Saturday, August 10, 2019, the very same day that his father died 47 years earlier. Tommy was born to Clarence and Elizabeth Decatur in Washington, D.C. He was the oldest of their four children. He was proceeded in death by his brothers, Johnny and Mike. He is survived by his only sister, Brenda Lee; his three children and their spouses, Douglas and Alisa, Karyn and Jay, Daniel and Rachel; his five grandchildren, Kevin, Olivia, Chloe, Ava, and Clarence; his sister-in-law, Leslie and her two children, Diana Lee and John; and his girlfriend, Linda.

Tommy was known for being a kind and generous man. He was also very hospitable. His door was always open. He was loving and tenderhearted; also, a good father and a good friend. Tommy was a very hard worker. He spent 33 years as an ironworker and was always seen busy with some new project at home. He loved the water and enjoyed being on his boat crabbing with his family and friends.

He will be greatly missed by the many people who knew and loved him. There will be an open house for family and close friends at his home on Saturday, August 17th from 2:00 p.m. to 6:00 p.m.