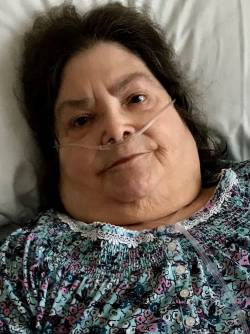 On Sunday, August 11, 2019, Maria Concepcion "Chi-Chi" Shugart, age 80, a devoted mother, grandmother and great-grandmother, passed away peacefully at the Burnett Calvert Hospice House in Prince Frederick, Maryland.

Maria was born June 7, 1939 in Washington, DC to Luis and Anne Granados and was the youngest of six children. Maria attended St. Anthony's Catholic High School in Washington, DC and in 1958, married Bruce C. "Buzz" Brown, Sr. As Buzz was in the Air Force, they lived in many areas, to include Maryland, Texas, California and Germany. In 1972, she married Joseph V. Shugart and they made their home in St. Leonard, Maryland where they raised six children.

Maria was a talented seamstress, crafting many quilts for her family. She even made beautiful wedding gowns for two of her daughters. Maria also enjoyed cooking, reading and watching her PBS shows. She remained sharp as a tack her entire life and entertained family and friends with her quick wit.

Maria was predeceased by her parents, husbands, grandson Bruce J. Brown and siblings Luis Granados, Jr., Elizabeth "Anita" Lartigue, and Robert Granados. She is survived by her beloved children, Bruce C. Brown, Jr. (Janis) of Foley, AL, Mary Catherine Brown (Robin) of Sidney, ME, Julie A. Andrewlevick (Michael) of St. Leonard, MD, Anita M. Stevens (Michael) of Owings, MD, James M. Brown of London, England and Robin L. Morgan (Jeffrey) of Lusby, MD, beloved grandchildren Patrick Brown, Angelic Allen (Nick), Nicholas Langley, Jana Nietmann (James), Michael Stevens (Amanda), Daniel, Jillian, Landon & Riley Flanary, and Johnny Finch, beloved great-grandchildren Payton & Maxwell Stevens, Damien Allen, James Nietmann, Jr., and twins Zane & Damien Dodson, and beloved brothers, Joseph Granados (Micki) of Venice, FL and Francis (Star) Granados of California, MD. Maria is also survived by her devoted caregiver, Connie Brooks.