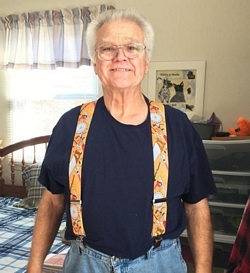 Larry Noble Taylor, 73, of Camp Springs and Lusby, MD passed away on Wednesday, August 7, 2019, at the John and Arloine Mandrin Chesapeake Hospice House after a long battle with cancer. Larry was born on October 26, 1945 to Carrie Wilson and Edmond Taylor of McCreary County, Kentucky. May 21, 1966, Larry married Karen Treakle and together they built a beautiful life full of family, friends, and a multitude of animals.

He was known as an excellent husband, a wonderful dad to his children and fur-babies, the kind of friend everyone could count on, and he will surely be missed as a 'Popsey' by his grandchildren. Larry and Karen shared two businesses they were very proud of, LNT Enterprises and Karen's Pet Grooming. The many people they met through the businesses became like family.

Larry was a welcoming man who was always willing to help those around him. When not working, Larry enjoyed fishing and crabbing. He spent many Sundays during the summer on St. Leonard Creek surrounded by those he loved riding jet skis, fishing, and eating crabs. Larry also enjoyed working with his hands and it was very likely you would find him building or repairing a multitude of things - there was nothing that he couldn't fix. He especially loved his large machines.

Larry's love was not restricted to the people in his life. The home that he built with Karen was always filled with animals in need of care and love, but schnauzers always held a special place in his heart. Larry spent many years with his schnauzer Whitley attached to his side - she even went to the hardware store with him to help with many of his projects.

When Whitley passed away that space was filled by Peaches who filled Whitley's paws with great enthusiasm. Throughout his life, Larry had an immensely positive influence on many people and will be truly missed.

Larry is survived by his wife Karen Taylor; sisters Lois Crone and Lola Harness; brother Roger Taylor; daughters Carrie Raines [Brian Raines] and Crista Taylor; sons Jimmy Crawford, Terry Foster, Jr. and Mark Foreman; granddaughters Kasey Richards [Brendan Richards] and Camden Raines; and beloved pup Peaches. In lieu of flowers, please consider making a donation to the Humane Society of Calvert County at humanesocietyofcalvertcounty.org. Arrangements by Raymond Wood Funeral Home.