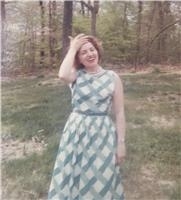 Jeanette Lee Whetzel, 85, of Waldorf, MD passed away on August 6, 2019. Jeanette was born in Washington, DC to Brainard Howard and Pauline (Lauterbach) Howard. She was predeceased by her husband, John Whetzel, her parents and sister, Alice Robertson.

Jeanette is survived by her children, Susan Fortney (David), James Whetzel (Beatriz) and Linda Laciny; grandchildren, James Laciny, David Malloy, Michelle Malloy, Brittany Laciny and Pauline Whetzel; great-grandchildren, Zoe, Nate and Brycen and brother, Ernest Howard (Donna).

Graveside service will be held on Friday, August 9, 2019 at 1:30 pm at St. Barnabas Episcopal Church Cemetery, 14111 Oak Grove Road, Upper Marlboro, MD. Charitable contributions may be made to Alzheimer's Disease Research at Mayo Clinic, in memory of Jeanette. Arrangements by Briscoe-Tonic Funeral Home.