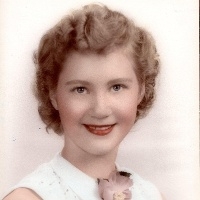 Janice Ann Oliver, 83, of Avenue, MD passed away on July 25, 2019 at MedStar St. Mary's Hospital with her family by her side. Born April 30, 1936 in Leonardtown, Maryland she was the daughter of the late William Alfred Johnson and Lula Elizabeth Wathen Johnson.

Janice grew up on the family farm in Loveville, MD and loved playing with her pet calf and many cats. Her first job away from the farm was at John R. Drury Insurance Agency in Leonardtown, After that she took a position as a receptionist working at the FBI in Washington, D.C. On March 24, 1962 she married the love of her life, Robert T. Oliver (Bobby) at Assumption Church in Washington, D.C. Janice and Bobby spent over 57 wonderful years together.

Their first home was in Clinton, MD, where their first child was born. After that they moved back home to St. Mary's County, where they had two additional children and they raised their family on the Potomac River in Avenue, MD. She spent many days with family and friends, fishing, swimming, boating and taking in the beautiful views. She enjoyed gardening, watching the birds from her kitchen window and cooking. The best part of her life was spending time with her family.

Janice is preceded in death by her parents William A. and Lula Johnson, baby Johnson (name unknown), her brothers Joe Johnson, George Johnson, William A. Johnson, Robert Johnson, Louis Johnson, William M. Johnson and her sister Isabel Bowles. Janice is survived by her husband Bobby and their three children Bonnie Miedzinski (Larry) of Leonardtown, MD, Robert T. Oliver, Jr. of Avenue, MD and Anita Anne Oliver of Avenue, MD, her brother Luke Johnson of Golden Beach, MD, her grandchildren; Brandon and Justin Miedzinski of Leonardtown, MD, Marissa and Raelyn Bush of Avenue, MD and one great-grandchild, Kane Miedzinski of Leonardtown, MD.

The family will receive friends on Tuesday, July 30, 2019 from 10:00 a.m. to 11:00 a.m., at Holy Angels Catholic Church, 21340 Colton Point Road, Avenue, MD 20609. A Mass of Christian Burial will be celebrated by Father Plummer at 11:00 a.m. Interment will follow at 12:15 p.m., at St. Aloysius Catholic Cemetery off of Fenwick Street in Leonardtown, MD 20650. In lieu of flowers, memorial contributions may be made to the Seventh District Volunteer Rescue Squad, 21530 Colton Point Road, Avenue, MD 20609 or Seventh District Volunteer Fire Department, 21660 Colton Point Road, P.O. Box 206 Avenue, MD 20609. Arrangements by the Brinsfield Funeral Home, P.A.