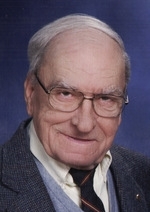 Philip Roger Bailey, 85 of Bushwood, MD passed away on July 17, 2019 in Leonardtown, MD. Born July 8, 1934 in Frederick, MD he was the son if the late Pearl L. and Robert P. Bailey Philip was the loving husband of Dorothy (Duff) Bailey whom he married on August 2, 1958 in Frederick, MD. Philip graduated from St. John's school in 1952, he moved to St. Mary's County in 1973 from Hagerstown, MD he was the owner of a Trucking Company in Hagerstown, MD he retired in 1980. He was a past President of the 7th District Optimist.

He is survived by his children: Lester (Kaye) Bailey of Chaptico, MD and Mike (Jan) Bailey of Fulton, MO, also survived by 3 grandchildren Jacqueline Bailey, Jonathan (Brittany) Bailey, and Chrissy (Kevin) Jones and 8 great-grandchildren, siblings: Theodore (Ted) Bailey of Hollywood, MD, Lulu Sween of Fredericksburg, VA, Alice (Paul) Donberger of Oxon Hill, MD, Janice (Jim) McCleaf of Leonardtown, MD Bob (Jackie) Bailey of Abell, MD, Andy (Joan) Bailey of Mechanicsville, MD, he was preceded in death by a sister Susie Bailey.

The family will receive friends on Tuesday, July 23, 2019 from 5:00PM to 8:00PM with prayers recited at 7:00PM in the Mattingley-Gardiner Funeral Home, Leonardtown, MD. A Mass of Christina burial will be celebrate on Wednesday, July 24, 2019 at 10:00AM in Holy Angels Church, Avenue, MD with Father Sam Plummer officiating. Interment will follow in Sacred Heart Cemetery, Bushwood, MD. Pallbearers will be: Jonathan Bailey, Tony Bailey, Steve Bailey, Nathanial Lyon, Mark Bailey, and Ray Bailey. Honorary pallbearers will be the 7th District Optimist Club members: Sam Bailey, Bo Bailey, Bernard Bailey, Eddie Bailey, Ted Bailey and Bob Bailey.

I lieu of flowers contributions may be made to the Seventh Dist Optimist Club P.O. Box 53 Bushwood, MD 20608 , Seventh Dist. Vol. Rescue Squad P.O. Box 7 Avenue, MD 20609, and Holy Angels Catholic Church 21335 Colton's Point Road Avenue, MD 20609.