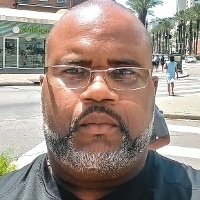 Live Life and Leave a Legacy...

Willie Arthur Washington, Jr. received his wings on July 14, 2019, in La Plata, Maryland, at the age of 46. Willie was a father, brother, friend and mentor. Also known as Soul, Sage, or Big Will, he enjoyed traveling, cooking, motorcycles and motorcycle club events, tailgating, attending Super Bowl and football events, music, and spending time with his children, family, and friends. An avid father and sports fan, he invested heavily in his sons education and sports development. Willie always chose his investments wisely, and fully believed in the potential of his sons.

He was born on March 5, 1973 in New York City. After growing up there, he graduated from Wilson High School in Florence, South Carolina in 1990, received a Bachelor's degree from Francis Marion University in 1995, and a Masters degree from George Washington University in 2003. Willie accepted Christ after college in 1997.

After moving to Maryland, Willie began working for Prince George's County Public Schools as an educator, then moving up the chain from IT Coordinator, to Data Management Coordinator, and an IT Project Manager. Willie was then chosen to push education reform forward for the state of Maryland in the Baltimore-based Intensive Management Capacity Improvement Team.

Willie was a member of Phi Beta Sigma Fraternity, a member from the PI CHI Chapter Prior to 1998, and a Low-N-Wide Rydaz motorcycle club member prior to 2013. He maintained his connections to those communities, frequently travelling to visit his friends and family.

Preceded in death by son, Courtney Aaron Washington in April 2003. Left to cherish precious memories of him are his wife, Laquitta P. Washington, of LaPlata MD, his children, Willie A. Washington III, and Cameron A. Washington, his father, Willie A. (Pamela) Washington, Sr., of Mechanicsville, VA, his mother, Merle T. Washington, of Fairfax, VA, his sisters, Coquette D. (Domenick) Petrella, of Fairfax, VA, and Ty-Nita Ferguson, of Willingboro, NJ, niece Jaiden Petrella, nephew Domenick Petrella, Jr., a host of uncles, aunts, family and friends. Arrangements by Thornton Funeral Home.