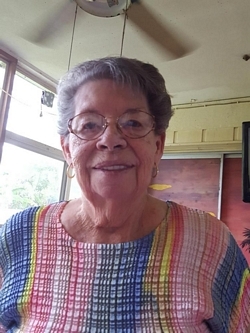 Brenda Kay Woods, 77, of Huntingtown, MD passed away June 24, 2019 at Calvert Health Medical Center. Brenda, or B.K. as she was known to some, was born on July 17, 1941 in Taylorville, IL to Marcel and Mary Ellen (Reed) Pallai. She was a self-described "military brat" who travelled with her family as a child to stations in Hawaii, New Mexico, and finally to Andrews Air Force Base. She attended Frederick Sasscer High School, in Upper Marlboro. It was there she met her future husband Allen C. Woods, and their marriage would last 54 years before Allen's passing.

After high school, Brenda attended beauty school. Allen and Brenda were married and since Allen was in the army, they found themselves stationed in Stuttgart, Germany. It was there that their son Anthony was born. After three years in the service, they would return to Upper Marlboro and eventually move to Prince Frederick in 1976, St. Leonard in 1988, and Chesapeake Beach from 1993 to 2015, when she went to live with her son in Florida. She loved camping with her grandchildren.

Brenda was all about family. She was a good mom, grandmother, and great-grandmother. She loved having her family around. She was a mother and homemaker for many years and always took an interest in the lives of her loved ones. Thanksgiving and Christmas were special times, with big dinners with the family.

She loved to sew, quilt, knit, and crochet. She worked at Mr. Comb's Sewing Center and enjoyed the many friendships she made. She was an expert at making beautiful quilts and was a member of quilting guilds in Annapolis and Bowie. Do you remember the quilted Northern Bath Tissue commercials with the bears from a few years ago? She was quick to point out that those bears were not quilting. They were knitting!

She and Allen enjoyed many friendships and were involved with the Moose Lodge, American Legion, and enjoyed eating out at Duffy's and Traders. For many years, she and Allen helped raise money for the American Cancer Society by helping get sponsors for annual golf tournament fundraisers. Brenda loved sweet tea, especially from McDonalds and over the past few years would almost daily have her daughter Alisa pick her up a sweet tea or a mocha frappe from McDonalds, or an iced latte from WAWA. After Allen retired, He and Brenda started a Home Inspection Company that they ran together for 15 years. The two of them were inseparable and she loved him dearly.

Brenda was preceded in death by her parents and step-mother Mae Pallai, half-brother Steve Pallai, husband Allen C. Woods and son Anthony A. Woods. Surviving are her daughter Alisa Lambert of Huntingtown, MD; grandchildren Anthony A. Woods, Jr. and his wife Katie of Lakeland, FL, Megan E. Castellow and her husband Joel of Ellenton, FL, Eric A. Smallenbroek of St. Leonard, MD and Clayton D. and Colton T. Lambert both of Huntingtown, MD; great grandchildren Adrian, Ella, Emma, Avery and Lucas, and a half-sister Sharon Merrill and her husband Vernon of Heyworth, IL. Arrangements by Rausch Funeral Home.