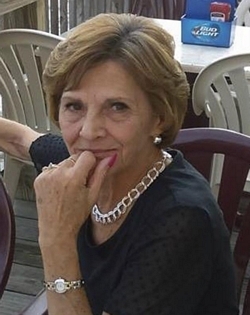 Lorraine Evans of Saint Leonard, Maryland age 74, passed peacefully at Burnett Calvert Hospice House on June 23, 2019 with her family by her side. She was born in Martinsburg, West Virginia on November 12, 1944 to Charles and Christine Seymer. Lorraine moved to Baltimore, MD shortly after birth and later to Glen Burnie, MD where she spent her early adult years.

Most recently Lorraine enjoyed volunteering at The Calvert Marine Museum. Prior to this, Lorraine worked at Saint Mary's Hospital as a Purchasing Agent. She adored her husband, children, grandchildren, as well as, close family and friends. Lorraine will be missed by the many lives she touched as she never knew a stranger and always welcomed people into her life with open arms.

She is survived by her husband, Robert "Bob" Evans; daughter Cynthia "Cindy" Majette and husband Andy; and son Blake Cooper; her grandchildren Kiley Majette, Dylan Majette, Dawson Majette, Willow Cooper, Valton Cooper and Sandra "Sandy" Martin. She is also survived by her step daughters, Liane Evans and Jenifer Reader and her husband Greg and step grandchildren Evan Evans and Bridgette Reader.

The family will receive friends on Wednesday June 26, 2019 from 4 till the time of a Celebration of Life service, 5 PM at Rausch Funeral Home, 4405 Broomes Island Rd., Port Republic, MD 20676. In lieu of flowers, contributions can be made to the Burnette Calvert Hospice House, 4559 Sixes Rd., Prince Frederick, MD 20678.